Hornets hand Devils first loss
Both the Bellwood-Antis Blue Devils and Juniata Valley Hornets had their sights set for the ICC championship last Friday night at Memorial Stadium. Although B-A was favored to win the match-up on their senior night, the Hornets took home the road victory, Bellwood's first ICC loss since 2015.
The Devils fell to a record of 8-1 and second in the District VI AA standings behind the undefeated Cambria Heights Highlanders while the Hornets improved to 7-1.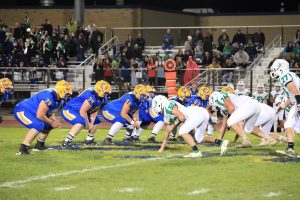 Juniata Valley's Jake Johnson tacked on three touchdowns for the Hornets in the first half including a 58-yard pass from quarterback Lambert Palmer with seven seconds left in the second quarter to make the score 20-0 at the half. The Devils couldn't answer in the second half as their only score would come from a forced fumble by junior Ethan Norris scooped up by linebacker Cooper Guyer for a 30-yard run for a touchdown. Palmer slinged another score in the fourth quarter to seal the deal and make the final score 26-7.
"Nobody likes to lose, but I think this was a good thing," explained quarterback Zach Pellegrine. "It was a good slap in the face before playoffs. You can't go into every game expecting it to be a blowout." Pellegrine completed 8 passes on 14 attempts for 82 passing yards on the night.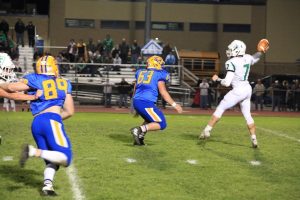 Head Coach Nick Lovrich looks to bounce back after the loss.
"Any time you lose a game you hope to learn something," said Lovrich. "Juniata Valley is a very good football team and they played a great game Friday night. They are a team that has made big plays all season and they were able to get a couple on us. Sometimes losing a game makes you refocus and dig a little deeper to make yourself and your team better. Going forward, we need to have the same goal as we did before, make each week our best game."
The Blue Devils travel to Mansion Park this Friday to take on the 4-5 Claysburg Bulldogs in the last game of their regular season.