Veteran's Day Essay and Poem Winners
At the Veteran's Day Assembly on Wednesday, November 13, 2014, two Bellwood- Antis High School students won the annul Veteran's Day Writing Contest.
Abby Luensmann was the winner of the Veteran's Day Essay Contest. Luensmann had read her essay in front of the student body, this Wednesday, at the Veteran's assembly.
In her essay she talks about the simple things people can do to show respect.
"If you see someone in uniform, say a simple 'Thank you,' write a letter to send overseas, and going to a memorial and run your fingers along the indented names," Luensmann wrote.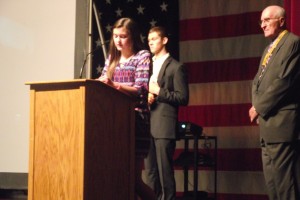 The Poem winner was, Marissa Panasiti, who wrote about the price of freedom. She contrasted the price of average items like cars with the price soldiers pay in service.
The two winners both received $50 from Donald Mills, of the Lyon's Club.