Blue Devils 1600 meter relay squad has lofty goals
They say in life speed kills, and in the sport of track and field that holds true. It's a quality the Blue Devils' 1600-meter squad surely does not lack this season.
On Monday, the group placed first at the 21-team Bellwood-Antis Invitational, running a season-best 3:33.
Composed of seniors Cooper Keen, Hunter Shawley, Sean Mallon, and junior Daniel Weeden, the team has lofty goals for this season, with hopes of a District 6 title, school record, and perhaps a place on the state podium at the PIAA track meet in June.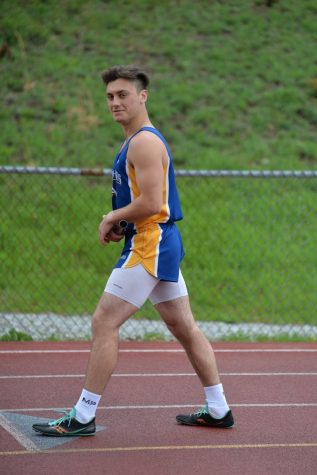 For three-fourths of the members, it's an opportunity to continue winning gold and qualifying for big meets. For a fourth, there's a feeling not of pressure but weighty expectations and the desire not to let his friends down.
Keen, Mallon, and Shawley surely are proud of their efforts so far this season.
"Coach always says we should push each other to be better, so that's what we do at practice everyday and when we compete," said Mallon. " There is always room to improve, but I am very happy with where we are as a unit right now."
Shawley, a PIAA medalist last year in the 300 hurdles who also won individual gold in that event at the B-A Invite, concurs with Mallon. The entire group ran the relay race last year, as well, with the exception of Weeden, who is taking over for the graduated Kenny Robison. Already they have improved on last season's best time.
"I knew things would begin to piece together well," he said. "We had a lot of success last year, but I feel this year we are much stronger and can compete for states."
To reach the state meet, the team must place top three in District 6 2A, or reach the state qualifying time of 3:29.
As the only junior on the squad, and the only member not to run the event in 2021, Daniel Weeden is proud of the team's success; however, he is aware of his own flaws and their effects on the team.
"The biggest issue right now is me. I have the slowest time," he said candidly. "My split isn't bad but not at all where I need to be. I think I can shave up to two seconds off of my time."
With three of the four members running sub 52 spilts, Weeden said he doesn't want to be a burden to the unit, currently running a 56.
"I don't feel pressure, but I hope I continue to improve so I'm not weighing the team down. Our guys really stepped up the other night and I'm excited to see what we can do," said Weeden.
Although Weeden may have concerns, Coach Nick Lovrich does not, praising Weeden for filling a spot that needed to be filled at a high level.
"We knew coming to the year we had three returning people on the 1600 relay and needed one more," he said.  "Danny stepped up and won the spot.  He has been coming along very well.  He has been improving and we are looking forward to him continuing to lower his time to help that team achieve the high goals they set for themselves."
Keen was optimistic about improvements the team needs to make, but also very realistic about the situation. It comes down to focusing on the things they can actually influence, he said.
"We can't control how other teams run, but we can control how much work we put in at practice. Our mindset will determine everything. So for now, we run hard and get to work," Keen stated.
Head track and field coach Nick Lovrich has also taken notice of the steady improvements of the sprinters, who double as the 4X100 relay team, which posted a season-best 44.7 at the invitational.
"I think they can go even faster after watching them run Monday," said Lovrich. "They already dropped three seconds off of their time so far, and have even more room to maximize their potential as a group."
The team will have a couple more big invitationals to make gains before the District 6 meet. The Blue Devils take part in the Altoona Invitational Friday before traveling to Northern Bedford for the ICC meet on Monday.
The Blue Devils will send their contingent back to Mansion Park in Altoona on May 17 for the 2022 District 6 2A championships.