Laurel Highlands reveals sections for expanded conferences
Bellwood-Antis's move to the Laurel Highlands Athletic Conference, which will start in 2023, has brought back some old rivalries, nowhere more than in the world of football.
The Blue Devils' LHAC section (East 1) includes Huntington, Central, their old rival in Bishop Guilfoyle, and backyard rival Tyrone.
"We keep our rivalry with Tyrone and renew rivalries with Central and BG," noted Bellwood-Antis athletic director Charlie Burch. "Our other games will be filled by the old MAC with a rotation between PO, PV, BEA, BELE, CLEA.   I look forward to the competition."
All of the LHAC's sectional alignments were released earlier this week, revealing the matchups each team will face for the foreseeable future.
The other sections in the conference are:
East 2: Bald Eagle, Phillipsburg, Bellefonte, Penns Valley, and Clearfield
West 1: Somerset, Westmont, Richland, Johnstown, Bishop McCourt
West 2: Penn Cambria. Bedford, Chestnut Ridge, Central Cambria, and Forest Hills
In Laurel Highlands new format, the Blue Devils will play each team in their own section, three teams from the East 2, and one team each from the two Western sections. Playing the majority of their games in the East sections (7/10) will limit travel for the team.
That will be a total of 9 games on the season, with the final game matching Eastern teams vs. the Western teams with the two one seeds playing each other for the conference championship. The remaining seeds will play each other with teams either moving up or down one or two seeds to ensure teams don't play twice.
Football coach Nick Lovrich said he met with his team recently to discuss the upcoming changes, and the group was excited by the challenge.
"I always thought that Cresson Mountain was a good divider for District 6," he said. "We have history of playing BG and Central in the past and having Tyrone in our section will make the Backyard Brawl even more important.  I always thought that Huntingdon would be a good rivalry also because of the strong history of their program."
"
Win or lose those games, they will get us ready for the postseason."
— Tyler Mertiff
Elsewhere, Blue Devil sports teams will face stiff challenges from loaded sections in a variety of sports. In basketball, the B-A boys and girls  teams find themselves in an East section that includes 5A Hollidaysburg.
New Blue Devil coach Tyler Mertiff said the alignment will make the team playoff-ready.
"I feel our section works really well for us," he said. "We will play some familiar teams that we know and some teams that will be new and will push us to play our best. Win or lose those games, they will get us ready for the postseason."
Also in B-A's section will be Central, Huntingdon, Bishop Guilfoyle, Tyrone, Bald Eagle Area, Philipsburg-Osceola, Bellefonte, Penns Valley, and Clearfield. Uunder the current format, the teams will play 14 sectional games, playing each opponent one and four opponents twice. There will be four crossover games with the opportunity for four non-league games.
The top two teams will make the section semifinals for an end-of-the-year tournament that have teams battle-tested for the District playoffs. The winner of those games will play for an overall LHAC championship.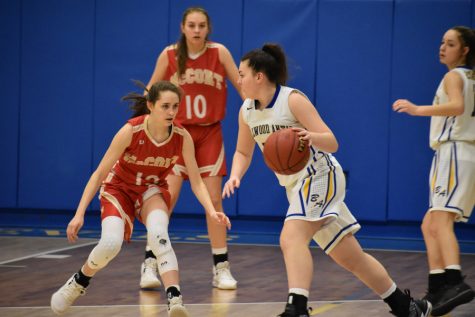 Under Jim Swaney the Lady Devils have won two state championships and last year played in the final four, so he knows first-hand his team can compete in the league, after facing many of the schools already in non-conference and District games
"We will compete with no problem," he said. "Hollidaysburg will be a tough opponent, but in a lot of years we would have won that division."
B-A's volleyball section is similar to the basketball grouping, meaning the Lady Devils will have to compete each year with the likes of state powers Philipsburg-Osceola and Bald Eagle
The stakes are just as high in baseball and softball, where the B-A teams will have Central, Tyrone, Bald Eagle, Bellefonte, Huntingdon Philipsburg-Osceola and Penns Valley in their section.  All of those schools have won state championships in either baseball or softball, but so has Bellwood-Antis, which earned a baseball title in 2003, while the softball team went to the final four in 2015. That makes the LHAC baseball/softball alignments as competitive of any grouping outside of football.
In wrestling, new coach Nick Torsell will find his team in a smaller section that includes Bedford, Chestnut Ridge, Hollidaysburg, Penn Cambria, Central, and Tyrone.
Track and field may well be, along with girls basketball, the sport where Blue Devil athletes will be able to make an impact quickly. In that sport the LHAC will be broken into three sections, with B-A competing against Tyrone, Bald Eagle Area, Penns Valley, Philipsburg-Osceola, Bellefonte, Huntingdon, and Clearfield.
The B-A boys team has won 19 of the last 20 ICC titles and regularly sends athletes to compete in the PIAA meet. This year the boys and girls have sent seven runners and jumpers to the state meet and outscored all of its section-mates (with the exception of District 9 Clearfield) at the District 6 championship meet.
A complete listing of the sectional alignments for the LHAC are listed below.
FOOTBALL
WEST 1
Somerset, Westmont Hilltop, Rishland, Johnstown, Bishop McCort
WEST 2
Penn Cambria, Bedford, Chestnut Ridge, Central Cambria, Forest Hills
EAST 1
Central, Huntingdon, Bishop Guilfoyle, Bellwood-Antis, Tyrone
EAST 2
Bald Eagle Area, Philipsburg-Osceola, Bellefonte, Penns Valley, Clearfield
BASKETBALL
WEST
Somerset, Westmont Hilltop, Richland, Johnstown, Bishop McCort, Penn Cambria, Bedford, Chestnut Ridge, Central Cambria, Forest Hills, Bishop Carroll
EAST
Central, Huntingdon, Bishop Guilfoyle, Bellwood-Antis, Tyrone, Bald Eagle Area, Philipsburg-Osceola, Bellefonte, Penns Valley, Clearfield, Hollidaysburg
VOLLEYBALL
WEST 1
Somerset, Westmont Hilltop, Richland, Johnstown, Bishop McCort, Penn Cambria, Bedford, Chestnut Ridge, Central Cambria, Forest Hills, Bishop Carroll
EAST 1
Central, Huntingdon, Bishop Guilfoyle, Bellwood-Antis, Tyrone, Bald Eagle Area, Philipsburg-Osceola, Bellefonte, Penns Valley, Clearfield, Hollidaysburg
BASEBALL/SOFTBALL
WEST 1
Somerset, Westmont Hilltop, Richland, Johnstown, Bishop McCort, Penn Cambria, Bedford, Chestnut Ridge, Central Cambria, Forest Hills, Bishop Carroll
EAST 1
Central, Huntingdon, Bishop Guilfoyle, Bellwood-Antis, Tyrone, Bald Eagle Area, Philipsburg-Osceola, Bellefonte, Penns Valley, Clearfield, Hollidaysburg
SOCCER
WEST 1
Somerset, Westmont Hilltop, Richland, Johnstown, Penn Cambria, Bedford, Chestnut Ridge, Central Cambria, Forest Hills, Bishop Carroll
EAST 1
Central, Huntingdon, Bishop Guilfoyle, Tyrone/Bellwood-Antis, Bald Eafgle Area, Philipsburg-Osceola, Bellefonte, Penns Valley, Clearfield, Hollidaysburg
WRESTLING
SECTION 1
Somerset, Westmont Hilltop, Richland, Johnstown, Bishop McCort, Central Cambria, Forest Hills
SECTION 2
Bedford, Chestnut Ridge, Hollidaysburg, Penn Cambria, Central, Tyrone, Bellwood-Antis
SECTION 3
Clearfield, Bald Eagle Area, Penns Valley, Philipsburg-Osceola, Bellefonte, Huntingdon
GOLF
SECTION 1
Somerset, Westmont Hilltop, Richland, Bishop McCort, Forest Hills, Bedford, Chestnut Ridge
SECTION 2
Central Cambria, Bishop Guilfoyle, Penn Cambria, Central, Tyrone, Bellwood-Antis, Bishop Carroll
SECTION 3
Clearfield, Bald Eagle Area, Penns Valley, Philipsburg-Osceola, Bellefonte, Huntingdon, Hollidaysburg
GIRLS TENNIS
WEST
Somerset, westmont Hilltop, Richland, Bishop McCort, Bedford, Chestnut Ridge, Forest Hills
EAST
Huntingdon, Bishop Guilfoyle, Tyrone/Bellwood-Antis, Clearfield, Hollidaysburg, Central Cambria, Central
BOYS TENNIS
WEST
Somerset, Westmont Hilltop, Richland, Bishop McCort, Bedford
EAST
Huntingdon, Bishop Guilfoyle, Tyrone, Clearfield, Hollidaysburg
SWIMMING
Bellefonte, Penns Valley, Central Cambria, Somerset, Hollidaysburg, Tyrone, Huntingdon, Clearfield, Westmont Hilltop, Richland
CROSS COUNTRY
SECTION 1
Somerset, Westmont Hilltop, Richland, Bishop McCort, Bedford, Chestnut Ridge
SECTION 2
Central Cambria, Penn Cambria, Central, Bishop Carroll, Forest Hills, Hollidaysburg
SECTION 3
Tyrone, Bald Eagle Area, Penns Valley, Philipsburg-Osceola, Bellefonte, Bellwood-Antis, Clearfield
TRACK AND FIELD
SECTION 1
Somerset, Westmont Hilltop, Richland, Bishop McCort, Bedford, Chestnut Ridge, Johnstown
SECTION 2
Central Cambria, Penn Cambria, Central, Bishop Carroll, Forest Hills, Hollidaysburg, Bishop Guilfoyle
SECTION 3
Tyrone, Bald Eagle Area, Penns Valley, Philipsburg-Osceola, Bellefonte, Huntingdon, Bellwood-Antis, Clearfield