Golf team wins ICC championship
The Bellwood-Antis golf team won their 3rd ICC championship in a row Monday, proving that they are the most dominant team in the conference.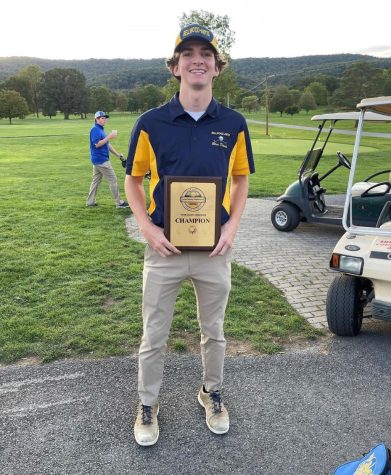 The team took on McConnellsburg, Curwensville, Everett, Tussey Mountain, and Claysburg-Kimmel at Sinking Valley Country Club.
Junior Ethan Johnston, with a score of 86, was the medalist and best scorer of the day, after last year placing 3rd in the ICC championship. He finished 6 strokes ahead of the nearest competitor. 
Other scorers for B-A include Josh Dorminy (96), Zach Pier (102), and Ryan Marinak (103), for a combined score of 387.
After beating Tyrone earlier in the season to put the team above .500, B-A has worked its way to an astonishing 11-3 record. 
Long time coach Galen Clarr retired as golf coach last year, and Mrs. Kathy Taylor stepped up and filled in that role quite well, winning a championship during her first season as head coach.
"As a first year coach, it is always nice to have a good season, but I was especially happy that the students won the ICC because they have worked hard all season to improve their skills," Mrs. Taylor said. "We lost a few close matches at the beginning but finished strong."
The team looks to take on Curwensville and Claysburg-Kimmel to close out the season on Wednesday, September 28th.