HOLIDAY-ISH: National Cuddle Up Day
Who would've thought that cuddling would have its own dedication? But now you know. Cuddling is the most affective way of closing a relationship.
During the cold, winter seasons we all just want to be warm, right? Well today can be an excuse to cuddle up to a close friend, significant other, or even a pet! (I'd say cats are the best option). There's also a plus if you have big, fuzzy blankets and a nice warm fireplace to keep you comfy and cozy!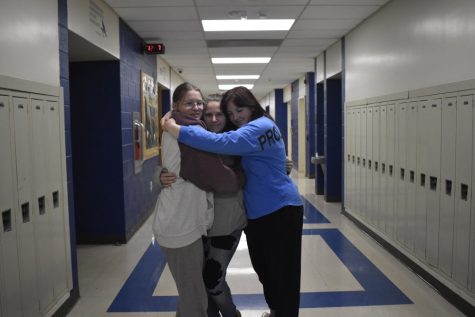 Mental health has its occurrences, but one known possible way to relieving that feeling is cuddling. Cuddling has been observed and studies to be one of the top relievers to any mental health because of how safe you may feel, your difficult challenges you face all start to go away. Dopamine (a chemical in the brain that improves focus and memory) is released when cuddling.
The warming feeling that contact can bring you is also a way of increasing loyalty in somebody. It brings reassurance which is also a way of limiting the feeling of anxiety and stress, that brings down any high blood pressure.
Researchers in the University of North Carolina found that 10 minutes of holding hands and 20 seconds of hugging can reduce any stress causing situation.
For example, when you're having a tough day you get asked if you need a hug, that's because hugging ties in with decreasing focus on stressful challenges.
You might not have a special someone to cuddle up with for today, and might just stay at home with your pets but let me uplift your spirit. Did you know that you can pay someone to cuddle you? That's right you can seriously pay somebody to have a cuddle session with you!
There are many ways that you can spend this day like:
Simply cuddle up
Make an appointment for a massage
Spread the word!
Leave a Comment