B-A seniors enter Lezzer Lumber all star game
The Lezzer Lumber All Star game, sponsored by the Central PA Football Coaches Association, will be played June 11, at Tyrone.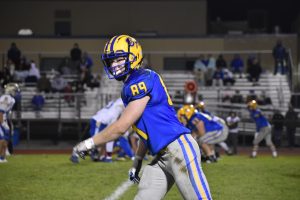 Bellwood-Antis has two players from the football team entering the game for the South team, seniors Eli Pluebell and Ethan Norris.
The South team includes the following schools: Bellwood-Antis, Altoona, BG, Central, Huntingdon, Tyrone, Penn Cambria, Juniata Valley, Juniata, Southern Huntingdon, Mifflin County, Mt. Union, and Hollidaysburg. This team will be coached by Southern Huntingdon Huntingdon head coach, Aaron Batzel.
Bellwood-Antis head coach and last year's Lezzer Lumber coach, Nick Lovrich, is excited for the BA seniors to enter the game and show their skills to teams and fans all over the area.
"This is an awesome way for Ethan to end his playing career, and an awesome springboard for Eli as he continues his career at Clarion," said Coach Lovrich.
Pluebell led B-A in sacks last season and was fourth on the team in tackles. Norris was third in tackles with 63.
Coach Lovrich continued, "Eli and Ethan both will have a great time playing with and getting to know the other all stars from the area, and I know they will make us all proud."
Pluebell explained his excitement for the game saying, "I am ready to get to work with the other all stars. It will make me even more ready for the next level at Clarion."
Congratulations to Eli and Ethan on being nominated into the Lezzer Lumber All Star game. Go make BA proud!