B-A senior takes second place for YEA business plan
Recently, Bellwood-Antis senior Sofia Delgrosso created her own business through the Young Entrepreneurs Academy program. With a second place finish at the YEA competition and a $1,000 funding award, Sofia created Zodicatz.
Zodicatz are cat stickers which represent each astrological zodiac sign. For the YEDA competition, Sofia had to model her business and present it to a panel of investors. She created a business plan that included market research and an implementation strategy.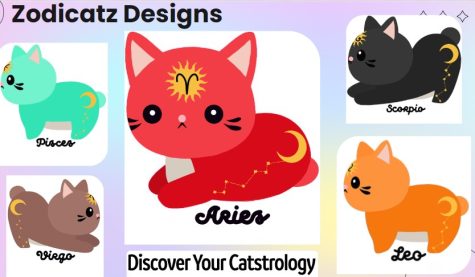 "I prepared a business plan, created a business slideshow presentation, manufactured my stickers, and presented my business to a panel of investors," said Sofia. 
According to its website, YEA is  "a groundbreaking and exciting program that transforms local middle and high school students into real, confident entrepreneurs. Through the year-long program, students in grades 6-12 generate business ideas, conduct market research, write business plans, pitch to a panel of investors, and launch their very own companies."
B-A has had several students complete the program in the past, including Jackson Boyer, who graduated in 2020 and participated in the program in 2017.
Although her pitch is complete, this is not the last step in the process for Sofia. 
"For my next steps, I plan to hire an attorney to help trademark my logo and slogan, as well as copyright all of my designs," said Sofia. 
The stickers would sell for $2. The target audience, Sofia established during her presentation, are people aged 6-30.
Although the money from the business is appreciated, Sofia said she is eager to gain more experience from this process, as well as benefit her future career as a business consultant. 
"I would recommend YEA to anyone who is interested in starting a business or going into a business-related career," said Sofia. 
Eventually, Sofia would like to finalize a website for Zodicatz, where the public can purchase their own stickers.