Andrews, Worthing, and others dominate Altoona meet
This past Friday at the Altoona Mt. Lion Classic, Bellwood-Antis seniors Dylan Andrews and Lydia Worthing continued their dominating invitational run this season.
Dylan placed 1st out of 22 pole vaulters with a best height of 14-06.00, which was an entire foot higher than the next best jumper. Lydia also placed 1st out of 18 in the girls pole vault, with a best height of 11-00.00.
"Overall, I was very happy with my performance," said Dylan. "Going into the meet my goal was to win the pole vault, and I was able to do that while also tying my PR. I'm in good shape for Districts and I'm excited to see what I can do."
Worthing said she was in a good position to challenge the school record set by Lexi Gerwert in 2018.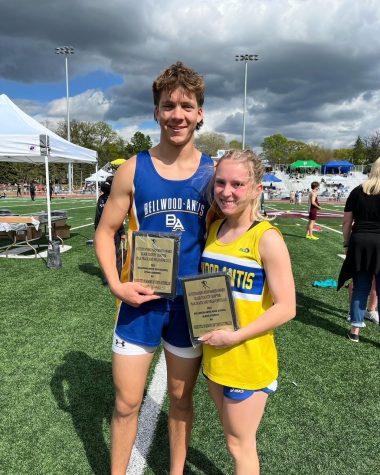 "I thought I did pretty well in the 4X1 and the pole vault," Worthing said. "I'm so close to getting the school record. I'm hoping to get lucky at Districts."
Along with the pole vaulting stars, B-A had many athletes show up and dominate the AA competition.
Senior Alexis Lovrich, who just this past week shattered the BA girls 3200m record, placed 5th out of 21 runners in the 3200m run with a blistering time of 11:47.78.
Alexis and Dylan were both honored as they received the outstanding performance award in honor of Cindy Gutzwiller.
Senior Chelsea McCaulsky was also able to place  in the meet, as she landed herself 8th out of 37 throwers, by throwing her javelin 108-07.00.
Last week's Athlete of the Week, junior Kole Dickinson, continued to impress while he placed 5th in the 110m hurdles, and 7th in the 300m hurdles.
B-A wasn't just excelling because of their upperclassmen, as freshman Chloe Stoltzfus placed a very impressive 6 out of 24 hurdlers in the 300 hurdles with her best time being a 51.38.
BA is now preparing to go out with a bang on Monday at the ICC Championship Meet in Juniata Valley, as this will be the last ICC meet BA will be at, due to them moving to the Laurel Highlands conference next season.