Swaney steps down as head girls basketball coach
The high school basketball season may seem to some to go by fast, but that is not the case for a head coach, who spends countless hours in a gym with his team preparing for the season. After the season ends, the team is back in the gym in the spring, summer, and fall getting ready for the next year.
A coach who really cares about his team knows how much dedication it takes, and only some are willing to go the extra mile to find success.
Bellwood-Antis coach Jim Swaney had made that commitment for more than three decades, but as he prepared for the summer season of 2023, he knew offseason obligations were no longer his top priority.
That's why, after 31 seasons, three District 6 titles, 2 PIAA state championships, and over 500 career wins, Swaney decided that it was time to step down as girls head basketball coach.
He announced to the team that he was retiring at a players meeting on Sunday night. 
"I don't know if there is ever a good time to step down, this just felt like the right time," said Coach Swaney.
"
I don't know if there is ever a good time to step down, this just felt like the right time.
— Coach Swaney
When asked why he made the decision Swaney stated, "If all coaches are honest, there is a time at the end of every season where they don't know if they can do another one. There is so much that goes into a season, but in a month's time that all clears away, and you're excited for the next year. I don't have that same excitement."
Swaney's departure did not come as a total shock to his players, like senior Lydia Worthing, who was named to the small school All-State team last month.
"I kind of figured this was going to be his last year," she said. "I'm sad, but also happy for him. He's been such a huge part of so many lives in the B-A girls basketball program. It's going to be weird watching the girls play next year without him."
After spending 18 seasons at Tyrone with 278 wins and a District 6 3A title in 1994, Swaney left and came to Bellwood-Antis in 2010. He found years of success with numerous conference titles, District championships, and two state titles in 2018 and 2019. Swaney also got his 500th career win at Bellwood-Antis in 2020, and as recently as the 2021-2022 season he led his team to the PIAA final four.
He ends his career with 569 career victories.
Last year, the team lost in the first round of the District playoffs the team had a very successful season. The Lady Devils ended 19-6 and just missed on a chance at an overall ICC championship, losing in the conference championship to Williamsburg.
The decision was not easy for Swaney. He said he knew how hard it was going to be to walk away from the team, but he believes that the program is in good hands.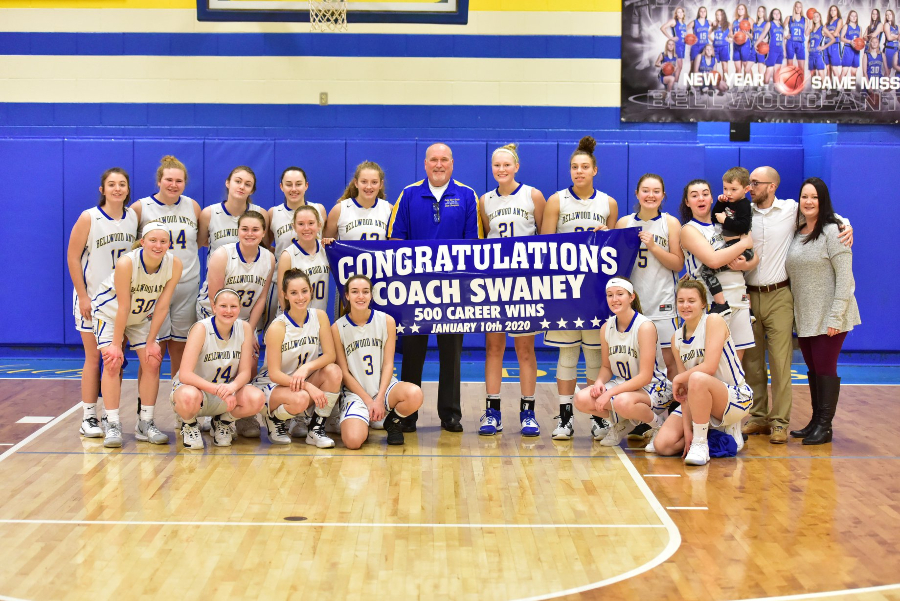 Longtime assistant coach Kyley Longo-McGarvey, who played at Hollidaysburg and teaches in the middle and high school at B-A, has already applied for the position.
Longo-McGarvey has been at B-A coaching since 2013 and was given her first coaching job straight out of college by Swaney. That alone, she said, has made him a great influence on her career.
"I have coached alongside Coach Swaney for 13 years.  He has been a great leader," she said.  "He knows the game, he is passionate about coaching, and most of all he loves the kids.  Coach would give the shirt off his back to anyone.  He has been there for countless players over the years far beyond the court.  He allows the kids to be who they are and he meets them where they are at."
For the past 13 years Swaney had built an elite girls basketball program. Swaney has coached multiple collegiate basketball players and nine 1,000 point scorers at B-A alone, including Blair County's all-time leading scorer Alli Campbell, Karson Swogger, and Sakeria Haralson.
Swaney is known in the community for his dedication and his desire for coaching. He has also gained the respect of many other coaches throughout his years. 
Just as he will be missed in the community, the same could be said for the returning players themselves.
"It's going to be really weird without him and we're all going to miss him a lot, but I think we are going to end up having a really good season," said returning letter winner Chloe Hammond, who has played for Coach Swaney for three years.
When asked if he will miss anything Swaney stated, "I love the kids and I'm going to miss them more than words can ever say. It feels like the right time for me to step aside and let someone else run the program. My only regret is leaving the kids that are there. I know they will be in good hands. What we have built over the last 13 years is going to continue because they are great kids."  
Athletic Director Charlie Burch credited Swaney for taking a program that had always been traditionally strong through the 80s and 90s and making it exceptional.
"Coach Swaney has put an exclamation point on the B-A girls basketball program and tradition," he said. "He has cemented his legacy in Bellwood-Antis sports history. Jim is just an all-around great guy who is fun to talk to and hear all of his stories from many years of coaching."
"
He's definitely going to be missed. When you think of Bellwood basketball you think of Coach Swaney.
— Chelsea McCaulsky
Coach Swaney has put the Lady Devils in a position where they will be successful in the future years to come. While he will not be there next year, he has prepared the girls program for the Laurel Highlands Athletic Conference, which B-A will move into in all sports next season. 
"For me playing for him since kindergarten, he's always put everything into the program, and his wife Sue, too," said senior Chelsea McCaulsky, who scored her thousandth point last season. "He's definitely going to be missed. When you think of Bellwood basketball you think of Coach Swaney. Losing him will hurt, but bringing in Longo will bring in a new kind of energy for entering a new conference."