In his last year of teaching, Mr. Goodman was asked to create a class to combat the lack of freshmen to fill his afternoon earth science course. Modeled around designing and carrying out experiments, Mr. Goodman's new class is titled "Project Based Science" (PBS).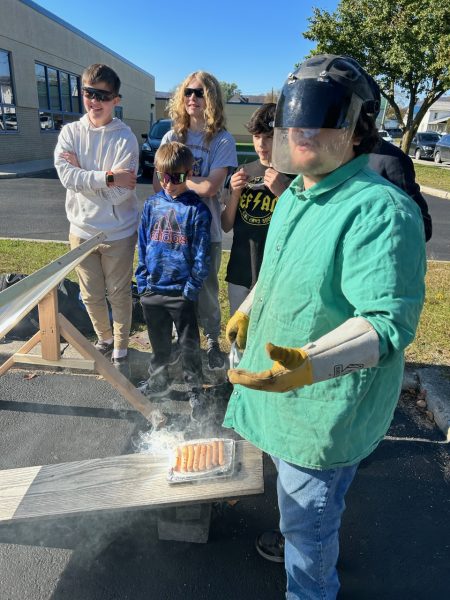 The group of eight students in PBS have the luxury of essentially creating their own curriculum, with their grades coming from completing project books throughout their experiments.
"There are no tests, quizzes, or assigned homework. The students select most of the projects from a master list that they, in part, help create," said Mr. Goodman.
The rules of this unique class are "simple", as students have to follow safety protocols, be creative in their design process, learn the scientific principles behind each project, and have fun. All of which are why Mr. Goodman would have loved for the class to exist in years past. 
Hands-on learning carries benefits that textbooks don't have. With PBS fostering a hands-on environment, Mr. Goodman believes that students "gain a sense of satisfaction and pride in making something that works". 
"I believe people learn best by making decisions, completing projects, and having fun," Mr. Goodman quoted.
Freshmen, Noah Corklic and Eric Johnson enjoy the class and the creative freedom they have.
"[Project Based Science] is an experience everybody needs to expose themselves to. We always upgrade our problem solving skills to make our projects more efficient," commented Corklic and Johnson.
In the first marking period, the students designed and built towers made of uncooked spaghetti and marshmallows. The objective was to build a tower that was the highest in comparison to other groups, and didn't collapse. The group who built the best tower got to select the next project from the master list.
The second marking period's project was to build a solar cooker from parts of an old TV, and use it to cook hot dogs.
"
I think by the end of the year these students will have learned a lot and retain positive memories of this class long after I'm gone.
— Mr. Goodman
"After building the spaghetti towers, this was the first project selected by the students from our list," said Mr. Goodman. "They researched the idea, developed a safety plan, and found a free TV on Craigslist. I drove all the way down to Bedford County to get this giant TV."
After a month of ripping apart the television, designing, and building a base, the group assembled the solar cooker in the parking lot behind the AG shop. Using the rays from the sun and their new lens, they burned a hole through a hot dog and melted pennies. 
"We all had a good time while cooking our hot dogs, learning about our project, and building our finished product," quoted PBS student, Ian Clark.
Mr. Goodman appreciates this unique group of students who are "interested in what the class has to offer", while maintaining a relaxed and respectful environment in the classroom. 
He refers to the saying, "when life hands you lemons, make lemonade" and believes his class is doing just that.
"I think that's what we are doing here. Making lemonade, solar cookers, and good memories. I think by the end of the year these students will have learned a lot and retain positive memories of this class long after I'm gone," said Mr. Goodman.