Respect Life March held over the weekend
Many BA students show up to participate in the walk
Last weekend, the St. Gregory Council of the Knights of Columbus in Tyrone hosted the 28th annual Respect for life walk in Tyrone on Sunday and they had their biggest turnout ever.
Over 200 people showed up for the event, which started at Saint Matthew's Church and went to Oak Grove cemetery to hold a prayer service at Baby Agnes Doe's grave.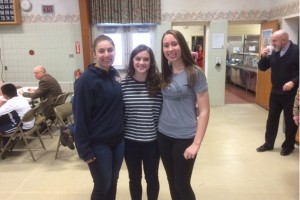 "It keeps getting bigger every year," said Pete Kreckel, Knights of Columbus member and one of the event's creators in nearly 30 years ago.
The walk is held in honor of Baby Agnes Doe, a baby who had been disposed of in the nearby woods on Kerbaugh Road in Bellwood in February of 1987.
It was followed by a free luncheon at Monsignor Harkins Hall at Saint Matthew's.
Many Bellwood-Antis students participated in the walk, most of which are members of St. Joseph's Parish in Bellwood.
"There was a 15 minute prayer in the beginning and then we walked to Baby Agnes' grave.  A lot of people had signs and banners when we were walking," said eleventh grader Abby Crider.
There were also people there from Hollidaysburg and State College who came to participate.
"
I'm glad I went. I feel like I made an impact, even though I'm only one person."
— Junior Nate Claar
Senator John Eichelbegrer and Representative Jerry McGinnis both made an appearance for the walk and stayed for the luncheon.
"It's a good cause and I think it's really good for people to get together and go," said eleventh grader Marissa Panaisti.
"I'm glad I went. I feel like I made an impact, even though I'm only one person," said junior Nate Claar.
You can read more about Baby Agnes Doe and the tragic death that inspired the Respect for Life March here.
Leave a Comment