Look Good, Play Good
Sports gear isn't cheap, but B-A athletes are paying hundreds of dollars to supplement their uniforms
The sports apparel industry is big business. Each year American's spend nearly $35 billion dollars for sporting equipment, according to a recent article by Capcredit.
High School athletes, like those at BA, are caught up in the gear game as well, for many reasons, including a look-good-play good mentality.
Most said they are spending hundreds of dollars on gear aside from what the school provides.  Many times it's because high profile athlete's endorse the product.
Junior Marissa Panasiti, who is on the soccer team, said, "If there's a pro-athlete on a sign for Nike that I really like, like Alex Morgan, it usually makes me buy more of that brand.  I guess it makes us feel more like the pros, and what athlete doesn't want to feel like them?!"
"The pros are role models for athletes. If they wear it, the thought process is that we should wear it," said junior Zak Taylor, who plays both football and baseball.
It varies from athlete to athlete exactly how much extra is spent.
In football, BA provides provided you with everything you need, like jerseys, pants, cleats, knee and thigh pads, socks, a helmet, shoulder pads, and a traveling bag. So technically you don't have to buy anything.
Still, players buy plenty of extra gear.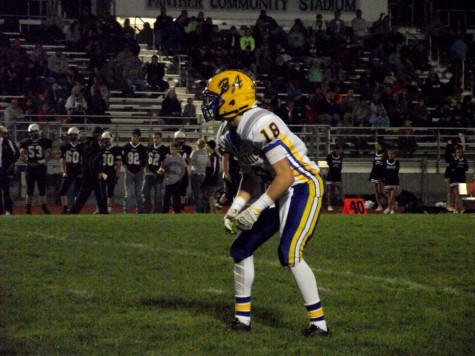 Sophomore Jarrett Taneyhill buys his own cleats, chinstrap, and a mouthpiece for comfort.  He bought his own helmet, too, which cost several hundred dollars.
He said, "My mom wanted to get me my own helmet to prevent concussions."
Classmate Ethan McGee spent almost $700 for his extra football gear, including a $250 helmet, $150 cleats, $60 gloves, a $20 mouthpiece, a $100 Nike Pro Combat Girdle, and $60 leggings.
Coach Nick Lovrich has seen equipment evolve over the years in both football and track. He said there's a lot more kids buying their own stuff and what they buy is not cheap.
"For track they don't need to buy anything besides their own spikes if they need them," he said.  "But for football I have seen people buying their own things such as gloves, Under Armour, or even their own helmets."
Most coaches at B-A agreed: kids today spend a lot more money on sports equipment now compared to when they played sports in the 80s and 90s.
Football coach Charlie Burch didn't need to spend nearly as much on sports gear when he played in the late 1980s, unlike now when he spends over $300 on his son Jake's football gear.
And it's just as expensive in girls sports.
Panasiti said a "good pair" of track spikes are $80 or a "good" running shoes are $100 for track.
"
Most kids buy the extra stuff because some of it is more convenient and a lot safer. But some of them buy it to for style."
— Jr. high football coach Charlie Burch
Girls' basketball provide you with a jersey and warm-ups. The booster club pays for all of their warm ups, although the money is raised through player fundraisers.
Junior Elizabeth Whaley said you have to buy your own shoes and socks, which means around $80 for shoes and $12 or more for Nike socks.
McGee said his basketball shoes are $120, his Under Armour shirt is $30, and his socks are $20 bringing his basketball gear total to almost $300. Like many athletes today, McGee has taken to wearing leggings under his uniform.
"I was at Penn State football camp in 9th grade and someone asked one of the players why they wear the leggings and they said because they're comfortable. And I agree," said Ethan McGee.
Soccer players have to buy cleats, shin guards, and head bands beyond the standard uniform. Junior Nic Mallory said that his sports gear costs around $400, while Panasiti said she spends over $300. She buys gear for both indoor and outdoor seasons: cleats ($100), indoor shoes ($100), shin guards  ($30), practice shorts ($20-30), and practice socks ($15).
Taylor said that his sports gear costs about $500 for baseball because he has to buy cleats, gloves, and pads beyond the standard uniform. Senior Trenton Creppage pays roughly $1,300 for catchers gear, glove, batting gloves, cleats, and bat.
In the end, most kids say buy their own gear for look or brand name.
"Most kids buy the extra stuff because some of it is more convenient and a lot safer. But some of them buy it to for style," Burch said.
"I think most athletes want to look nice and have sick (cool) apparel," said sophomore baseball player Jordan McCracken.
Leave a Comment