Lady Blue Devils get prepared District 6 AA Championship
Team is confident there will be no Brawl hangover
Normally after the Backyard Brawl, both teams suffer from a "Backyard Brawl hangover."
This is not the case for the Lady Blue Devils this year.  They won against rival Tyrone 53-34 Wednesday in the District 6-AA semifinals and are determined to continue moving forward.
And it's not like their next game is a regular game. It's the District 6 championship.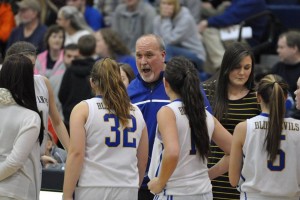 Bellwood-Antis plays Bishop McCort on Saturday at 5:30 at Saint Francis University in Loretto.
After an all or nothing rivalry game like the one that occurred on Wednesday, when sophomore Karson Swogger scored 21 points in the second half to help lead B-A back from a 5-point deficit in the third quarter, the Lady Blue Devils need to get refocused quickly, and they don't seem to be having any trouble doing that.
"Our coach tells us to take it game by game, so after our games are over we immediately go to the next one," said Makayla Carles.
Teammate Selena "Nina" Damiano, said, "Once you finish one game you have to move on and get ready for the next."
The Lady Blue Devils look over the scouting reports they get at practice, so they know what to expect at their next game, and they are really excited at the chance to defend their 2014 championship.
"It's Sweet!" said senior Ana Hollen, who scored 13 against Tyrone. "We're making school history and having a blast while doing it."
Meghan Claar said, "It's a stepping stone."
"
We're making school history and having a blast while doing it."
— B-A senior Ana Hollen
Carles said a win Saturday would make a statement for the program.
"It would prove to people we are better than they say and think we are," she said.
As they prepare for their third straight District finals appearance, there is a lot of excitement on the team.
"We're more focused now than we were at the beginning of the season," said Leamer.
Carles said B-A's championship experience could make a big difference.
"We were here last year, so it's the same feeling of excitement," said Carles. "McCort doesn't know what Saint Francis is like and we do, so that motivates us more."
Come out and support the Lady Blue Devils as they take on the Lady Crushers Saturday in Loretto.