Arts Night
Friday, March 6, is the 6th annual Arts Night held at Bellwood-Antis!
The fun-filled night will be held throughout the high school lobby, cafeteria, and connecting hallways from 5-8 PM.
Why should you come?
There will be fun activities like face painting, crafts, and of course- food!
Musical performances will also be taking place throughout the night.
"Arts Night is an event that solely highlights what students do in the Arts. It is a time for the students to share with their school and community what they do in and out of school as part of their talents. The event is also a great reminder of the need for the Arts in schools and advocated for the right brain thinkers in a non-abrasive way," 7-12 grade art teacher, Mrs. Leah McNaul said.
"It's more than just strolling the halls looking at artwork," she added.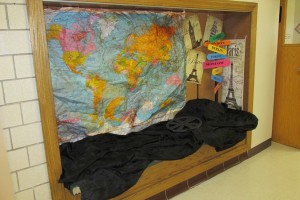 How did this all come about?
McNaul's response was "I wanted to do a night that showcased my student artists, but felt overwhelmed taking it on by myself. I approached Mr. Sachse about the idea where he brilliantly suggested making it an 'Arts Night' where we showcase other disciplines of art such as his performers. It quickly spiraled into including the practical arts such as Home Ec., which Mrs. Reitz jumped on board. Throughout the years, we have also highlighted the industrial artist and Ms. Forshey's tech classes.