Bellwood hosts its first STEM night
This year Bellwood is hosting it's first ever family STEM night.  STEM night will be held this year on April 16th in the middle school gymnasium and cafeteria.  It will run from 5:30 to 7 p.m.
STEM night focuses on the science field like technology, engineering, and mathematics.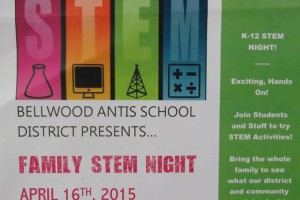 Tessa Albert
Students and staff from various grades have submitted STEM projects and class work.  You can see some of the senior projects from Mrs. Zong's English class all the way down to kindergarten projects. This is a family friendly event with exciting hands on experience and other fun things to do and see!
STEM night was made possible with the partnership between Bellwood-antis and University Park.  Penn State was looking for a partnership with local schools for real/authentic science in schools.
"I want to high light not just the incredible things at school but also to connect with the local businesses and educational opportunities," said high school physics teacher and event organizer Mrs. Flarend.
Mrs. Flarend and Mrs. Cuhn are the two women in charge and one of the many reasons that STEM night is possible!  So grab your friends, family, heck even bring the dog to Bellwood's first ever STEM night!