Baseball team advances to quarterfinals
The Blue Devil baseball team is still shining bright after advancing in postseason.
Chad Luensmann pitched a complete-game shutout with 13 strikeouts while only allowing one hit during No. 3 B-A's 5-0 victory over Bald Eagle Area at home in the first round of the District 6 Class AA playoffs Thursday.
Luensmann's only hit was a single in the second inning. From then on, Luensmann didn't let any Bald Eagle make it to second base.  He was the winning pitcher.
"It felt good to get a playoff win," Chad said. "It also felt good to avenge a playoff loss from last year."
The Blue Devils started out hot at the very beginning of the game getting three of their runs in the first inning.  They added their last two in the second inning.  No one scored the rest of the game.
Zach Mock's line-drive double to center scored Nevin Wood and pinch runner Thor Schmittle.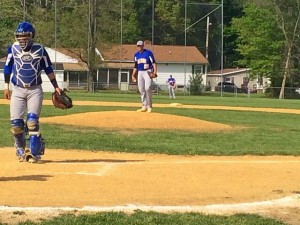 Randy Zitterbart hit a triple and a double.  Mock also hit a double.
The Blue Devils look to advance next week in the quarterfinal round against Bedford.
The Blue Devil baseball team is now 18-4 overall.