B-A softball team advances to final four
Blue Devils make the plays to eliminate Donegal 4-0
Taylor Shildt and the Bellwood-Antis softball team walked through raindrops for seven innings yesterday.
And somehow the Blue Devils managed to stay dry, defeating District 3 champion Donegal 4-0 in the PIAA Class AAA quarterfinals at Big Spring High School, despite allowing a boat load of base runners and working into to some dicey situations.
B-A scored two in the third, followed it up with two more in the fourth, and played error-free softball to seal a victory that places the Blue Devils among the final four AAA teams alive in Pennsylvania.
Now 18-6, the Blue Devils will face WPIAL third-place finisher Trinity Monday at 6 p.m. at Greater Latrobe High School. On the line is a shot at the program's first PIAA championship game appearance.
"
We're psyched because this is the first time a (softball) team from Bellwood has been here."
— Mayranda Mamat
Those would be uncharted waters, but they're all uncharted at this point for B-A, which before this season had won one District championship and had never advanced in the PIAA playoffs.
"We're psyched because this is the first time a (softball) team from Bellwood has been here," said sophomore Myranda Mamat.
"It's a really big deal to be in the final four, especially playing up a classification," said Edyn Convery.
B-A took advantage of several Donegal miscues to plate its runs yesterday, but just as big a story was the performance of Shildt and the Blue Devil defense. Shildt worked her way out of two bases-loaded jams, once in the second and once in the sixth.
"I felt a little bit of pressure, but I knew if I let my pitches work my defense would come through," said Taylor.
In the sixth, with B-A holding its 4-run lead, the first two Donegal batters reached before third baseman Edyn Convery cut down a runner at the plate with a strike to catcher Jacqueline Finn. The next batter lined a laser to second, but it was handled by Anna Wolfe.
Convery pegged a second runner at the plate in the second to help cool another fire.
"Especially at 0-0, there's some pressure to get those outs at home," said Edyn.
"
We were confident Taylor would get us out of it."
— Laycee Clark
In all, Donegal stranded 13 base runners, leaving runners in scoring position in four different innings.
Still, the Devils said they were confident they could work out the jam.
"We were confident Taylor would get us out of it," said Laycee Clark.
Coach Jim Payne said Shildt's pitching style lends "itself to some hits and the eventual walk," but that his junior right-hander has the guts to work through any jam.
"She will respond to the pressure, and defensively (our defense) will respond as well," he said. "The format is working very well, I think."
Shildt finished allowing six hits, striking out five and walking four.
Her counterpart from Donegal was nearly as good. Mikayla Yoder allowed just one earned run, seven hits and did not walk a batter, but the defense behind her wasn't as sharp as the help received by Shildt.
In the third, Wolfe singled with two away and Shildt followed with a double to left that got B-A's first run on the board. As Shildt rounded the bases Donegal shortstop Rachel Robinson threw wide of the catcher, allowing Shildt to score to make it 2-0.
In the fourth, Caroline Showalter delivered a two-out single to plate Laycee Clark for the Devils' only earned run. Saige McElwain scored later in the inning when she hit third as part of a double steal. The throw to the bag went into the outfield and McElwain came home to make it 4-0.
That's another big hit and some more runs batted in this postseason for Showalter, who has been coming through in clutch situations.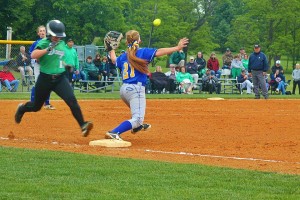 "I just go up with confidence and have it in my mind that I have to get a base hit," said Caroline.
The Devils say they aren't feeling any pressure in their run through the PIAA's, which makes sense considering many people thought they wouldn't make it out of the District while playing in the AAA classification.
"There were a lot of people who said we might win Districts but we wouldn't get any further because we would be playing the best AAA schools," said Taylor. "To keep on winning like this feels good because we're proving everybody wrong."
"We're very excited," Laycee said. "No one thought we would make it this far in states."