Mets select Luensmann in 39th round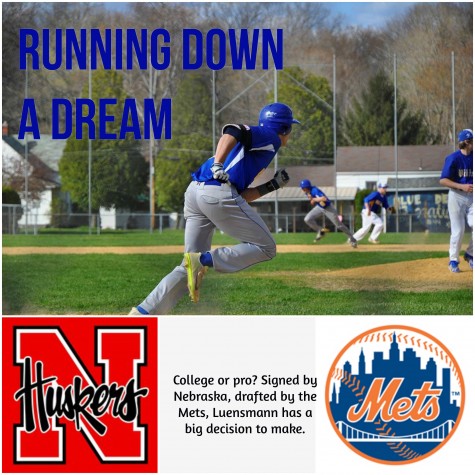 Recently graduated Chad Luensmann had a big decision to make Wednesday after he was selected by the New York Mets in the Major League Baseball amateur draft.
Already signed to play on the Division I level next year with Nebraska, Luensmann said he is opting to go the college route.
"It's a dream come true," said Luensmann, who went 10-1 during his senior campaign at B-A. "It feels good knowing hard work pays off."
Rated among the nation's top 500 amateur prospects by Baseball America at No. 427, Luensmann was selected No. 1,169. Luensmann said that probably had to do with the dollar amount he was asking.
"I wish I could have gone higher, but I knew I wouldn't because I wanted a little bit too much money. But it's still an honor to get drafted and hear my name called," Luensmann said.
When asked about his decision, Luensmann said definitively he was going to head to Nebraska to play baseball in the Big 10. He signed with the Cornhuskers in November.
"
It feels good knowing hard work pays off."
— Chad Luensmann
Luensmann was one of the key pieces in the Blue Devils' run to the District 6-AA championship game this past season. He had a 0.68 ERA with five shutouts and 127 strike outs. His lone loss came against Richland in the District title game when he uncharacteristically allowed four earned runs and nine hits in a 6-0 loss. He rebounded the next game to pitch nine shutout innings in B-A's 1-0 extra-inning loss to Neshannock in the PIAA playoffs.
Over his four-year career with the varsity, Luensmann recorded 26 pitching victories and 270 strikeouts.
A solid hitter, as well, Luensmann also reached the 100 hits milestone and batted .385 for his career.
An honor student and National Honor Society member, Chad is the son of Kevin and Elaine Luensmann.
Leave a Comment