Soccer team dominates West Branch
Panasiti, D'Angelo have big days in co-op's first win
Saturday in Tyrone, the Tyrone/Bellwood-Antis co-op girls soccer team obliterated West Branch with a score 10-0.
Senior Marissa Panasiti led the Lady Eagles with three goals and two assists. Freshman Riley D'Angelo added two more goals and tallied one assist.
In the second half, senior Christina Kowalski relieved goalkeeper Maddie Noll to preserve the shutout. Brynne Swogger, Brianna Reiter, and Raegan Plowman provided great defense to keep the Lady Warriors' shots to a minimum.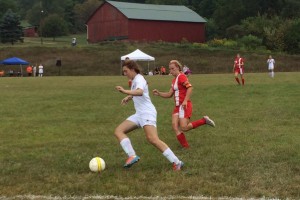 "I think we handled the ball well and it was an easy opportunity for us to showcase our skills," said Marissa.
Christina added, "It seemed like West Branch came out of the gate timid and weak. Quite simply they just didn't come to play."
Their next game will be tonight against Philipsburg. The game will take place at 4 P.M. and will be the second home game for the Lady Eagles.