BASD prepares to launch a new WiFi system
Grant covers half of the cost
Think about it: how many times have you sat in a classroom and your computer acts like it doesn't know what to do?  Everyone's been there, and quite frankly, it can get on people's nerves.
Good things certainly don't come in a flash.  They take time and arrive through a process.  The Bellwood-Antis School District is working on something that would greatly enhance learning in classrooms.  A new internet system is on the way!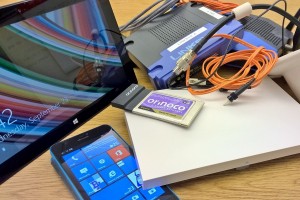 The positive aspect in this is that the school is obtaining funding through grants, meaning that the district will not have to pay the entire cost of the installation.
"The old Wi-Fi system did what it needed to do, convenience-wise I mean, but the installation of the new system will increase the internet speed and allow a greater number of devices to be used," said the district's technology coordinator, Mr. Michael Lingenfelter.
"The main point of this is to push technology into classrooms; in the elementary, middle, and high schools," added Dr. Thomas McInroy, the BASD Superintendent, "If kids are exposed to technology at an early age, they will be much more prepared for their future."
McInroy believes that jobs involving technology will open up right away to B-A graduates, and that, he said is "what we want for the kids."
"As far as in the classroom technology, we will be installing lasers to increase internet speed.  Thirty-two Chromebooks are also being bought for the middle school," he said.
"
The old Wi-Fi system did what it needed to do but the new system will … allow a greater number of devices to be used."
— Michael Lingenfelter
The process is key for this to work; Class Messenger, a new program the school is implementing this year to increase communications between parents, students and teachers, is a starting piece.
"We are looking for foundations for grant money," added Dr. McInroy. "In fact, for (the Wi-Fi) project, we are working through a program called Erate.  With this program, the government will pay for half of the bill, so that the entire cost will not fall on the school district."
Like Dr. McInroy, Mr. Lingenfelter agrees that it is a process, and each issue must be addressed only after the previous is taken care of.
"It will take time, but perhaps by mid-November the high school, middle school, and elementary school will have the new system installed," said Mr. Lingenfelter.
This is a large task for the Bellwood-Antis school district, but the new internet system will definitely benefit both the teachers and students as a whole.