Bellwood wrestlers loss in Brawl is a win for veterans
Thursday night, the Bellwood-Antis grapplers took on rival Tyrone in the first ever Black and Blue Match.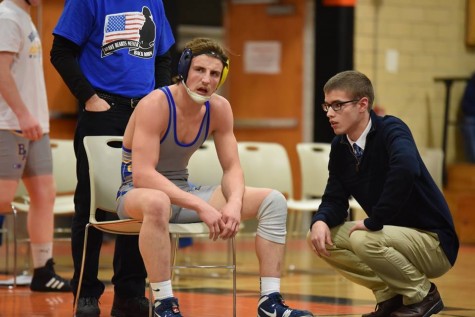 The match was held to raise funds for the Wounded Warriors Project. A huge success, this event produced a grand total of $1937.86.
However, the Blue Devils lost the match as a team 41-21.
"We owe a great deal to our veterans and this is just a small token of our appreciation," said Coach Ronald Wilson.  "The two booster clubs have discussed making this an annual event which would be awesome."
The match adds another level to the nearby rivals yearly series. The concept of the event was developed by Tyrone Coach Mike Cherry and his wife. The event included matches between elementary, junior high and varsity wrestlers from each school.
Nate Claar triumphed yet again at 165 lbs. with a 5-4 decision over Phoenix Farrias, improving his overall record to 19-3.
Noah Schratzmeier won as well with a pin of Erick Ixtepan in 3:54.
Cameron Nagle and Hunter Curren won on forfeits.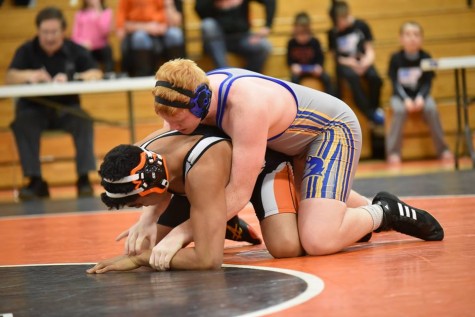 "It has been a difficult year for us in dual meets. We have a very young team with several openings in our line-up," Coach Wilson said.  "Tyrone had a lot more experience across their team.  Having seven sophomores on our roster has proven challenging this year, but points to better days ahead.  Nate has provided a consistent example of dedication and work ethic  for the entire season, and hopefully our younger wrestlers will follow his lead and continue to work hard to improve."
The Blue Devils may have lost the battle, but both teams won the war in helping our Wounded Warriors
Tyrone Area  41, Bellwood Antis 21
126: Jamal Hicks (TAH) over   (BAH) (For.) 132: Aaron Lewis (TAH) over Kaylob Tatsch (BAH) (Fall 1:44) 138: Hunter Curren (BAH) over   (TAH) (For.) 145: Sage Dixon (TAH) over Malacki Harper (BAH) (Fall 2:43) 152: Lance Loose (TAH) over Nick Watters (BAH) (Fall 3:01) 170: Nate Claar (BAH) over Phoenix Farias (TAH) (Dec 5-4) 182: Noah Schratzmeier (BAH) over Erick Ixtepan (TAH) (Fall 3:54) 220: Stevie Colyer (TAH) over Ryan Kerns (BAH) (Fall 2:48) 285: Cameron Nagle (BAH) over   (TAH) (For.) 106: Michael Cherry (TAH) over Bailey Kudlawiec (BAH) (TF 17-2 2:37) 120: Devon Brown (TAH) over   (BAH) (For.)