Holden Schreier wins state foul shooting contest
Myers student wins Elks Hoop Shoot
This past weekend, one of our very own little Blue Devils did something most kids can only dream about.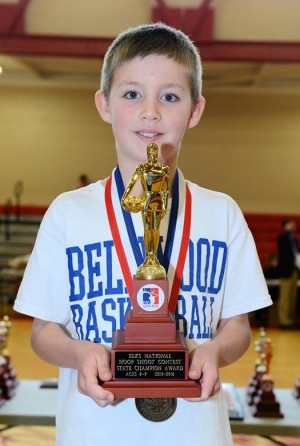 Third-grader Holden Schreier won a state championship.
Participating in the Elks National Hoop Shoot Free Throw Program, Holden had already advanced past the local and district levels with first place finishes.
The local competition took place back in the winter at the Tyrone Are Middle School, and districts was held at Bellefonte.
On Saturday, Holden hit twenty-two out of twenty-five foul shots to win the state competition in the 8 & 9-year old division, and punched his ticket to Wilkes-Barre for regionals.
"I was a little nervous for sure," Holden said with a grin.  "I shot against seven other kids and they were all pretty good."
Schreier elected to take three practice shots (a shooter can take up to five) before he began.
At the Elks competition, the setup for shooting has every shooter take ten shots, and then 15 when contestants have done their ten.
"I missed my second shot but made the rest of the first ten," recalled Holden.  "Then I made 13 out of 15."
The second-place shooter wasn't far behind Schreier, connecting on 20 out of the 25 shots.
At regionals, Holden will only be shooting against two other kids: the state champions from New York and New Jersey.
"I know they're going to be good, but I'm hoping my chances are better since there are only two of them," Schreier chuckled.  "My whole family is going up too, so I'm excited."
The regional competition is set for Saturday, March 19, which also happens to be Holden's birthday.
Good luck Holden. Your school, town, and state are cheering for you!
EDITORS NOTE: The writer of this story, Nathan Davis, was an Elks Hoop Shoot state and national champion when he was in middle school.