Claar ends his run at Southwest Regionals
Last weekend, Bellwood-Antis Senior Nate Claar saw his wresting run come to an end.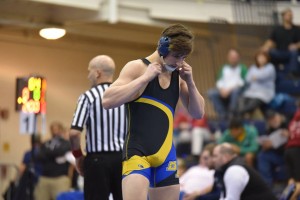 Claar came into the Southwest-Regional tournament on a high note, placing fourth at the District 6-AA tournament. Claar started Friday off losing 9-0 against Trevor Kniha from Jefferson Morgan. That loss put him into the loser's bracket, where he won his second match of the first day to stay alive over the weekend.
Day 2 was crucial for Claar, needing to win both of his daily matches in order to fight his way into a spot in the PIAA tournament in Hershey. Unfortunately, Claar lost his first match 5-0 against Dillan Charlton from North Star. This sealed his fate for the season, moving Claar out of contention to move on.
"He ran into a couple of tough kids," said Assistant Coach Tim Andrekovich. "He beat a few of the regional qualifiers earlier in the year, so we knew he belonged in the tournament. A better draw or a couple of points made the difference in keeping Nate from going to states."
Claar ended his senior season 29-9. He will wrestle next year at the University of Pittsburgh-Johnstown, a Division II school that competes in the PSAC.
"Anytime you get to a regional level competition, there are not free passes," said Coach Ronald Wilson. "Nate wrestled three solid kids and unfortunately came up short in two of them."
Coach Wilson also said how Nate will be missed next year and that he wishes him the best of luck at the collegiate level.
"He provided leadership to our young team, and we are certainly going to miss him," Andrekovich added.