B-A twirlers excel at Altoona competition
Last Saturday the annual Twirler Unlimited competition was held at Altoona Junior High School, and three B-A girls found great success.
Freshmen Anna Sloey and Megan Maynard are both a part of the Dream Twirlers twirling team. Sophomore Mikala McCracken competed as well.
The Dream Twirlers team's effort was good enough to take home the first prize in the group competition.
This wouldn't be the only first place finish, though. Anna went on to receive her first ever first place finish in her Level 1 solo performance.  Anna also earned a fourth-place finish for her solo performance in Level 2.
Anna was pleased with her performance and has her sights on advancing to a higher level of competition
"I never had a first-place finish solo in Level 1 so I was happy with that. I would like to place first again in level one so then I could move out of the division," Anna said.
Megan went on to thrive in the solo competitions as well. She finished second in her Level 1 solo performance, and also finished in fourth place in the modeling part of the competition.
Megan was very excited with the way the modeling portion of the competition went for herself since it was her first competition.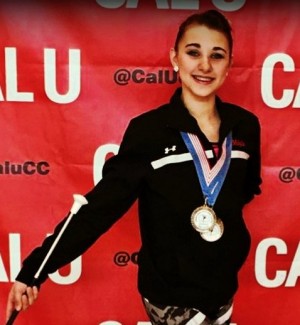 "I am very happy with the way the modeling went because it was my first time doing it," she said. "As for the twirling, I am happy with the way it went also."
Mikala excelled at the competition. She finished in first place in two events, the Level 3 strut and the Level 3 two-baton.
Mikala will look to continue her success this weekend as she will travel to Maryland to compete in the Congressional Cup.
Mikala was excited with the way she performed and looks to build on the performance this weekend.
"It was an accomplishment to receive two first places, and I am looking forward to competing at the Congressional Cup this weekend," she said.