Freedom Ride: the hottest event of the summer
Fourth of July bike ride has raised over $40,000 for local Veterans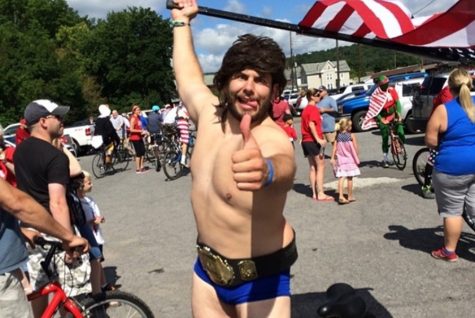 In today's society people show support for their country on holidays by using social media.  They change their profile pictures to American Flags and share pictures of soldiers on Facebook and consider themselves patriots.
While it is great to publicly support your country, how much does it really accomplish?
With that being said it is important to remember the saying, "Actions speak louder than words." If you actually want to make a difference then you can start by going to the Freedom Ride.
Freedom Ride is a ten-mile long bike ride from Tyrone to Tipton held every year on the Fourth of July to raise money for veterans, and it is a great time to show off your American pride by dressing in all of your red, white, and blue.
Freedom Ride was founded by both Bellwood-Antis and Tyrone alumni. B-A alumni on the Freedom Ride board include Lindsey Hess, Sean Riggle, Phil Hess, and Patrick Thornton.  Tyrone alumni include Doug Roseberry, Eric Latchford, and Eric Sloss.
"Freedom ride is a day to put all other nonsense aside and just focus on the good.  The Vets! Smile and show some thanks," said Doug Roseberry, President of the Freedom Ride.
"
Dress up in your best USA gear and come ride free! We want good vibes and high fives to start your all American holiday! "
— Doug Roseberry
The bike ride starts and ends at the American Legion in Tyrone, with drink and rest stops along the way. This event is a great thing for families to do together, as it is not a race.
It is quite common to see riders donning outfits appropriate for the day, like red, white and blue shirts, American flag shirts, or United States Olympic apparel. Many riders even wear costumes, dressing like Uncle Sam, Captain America, or George Washington.
The costumes that are worn will be judged and awards will be given out. Last year eight awards were given out.
You can also win awards for decorating your bike!
The price to ride is $10 for children, and $20 for adults and can be purchased online.  All proceeds go entirely to the James E. Van Zandt VA Medical Center in Altoona.  Last year a record $20,000 was raised by the more than 200 participants, and since 2012 a total of $43,000 dollars has been raised.
Teen Involvement
Most of the time, high school kids want to make a difference, but don't know how to help.  Freedom Ride is a great way for teens to make a difference and show support for the veterans.
"Kids should go to Freedom Ride to have fun! Young people need to see the benefit of being active in your community and giving back," said Roseberry. "This honors our freedom, the greatest gift we have as Americans.  The youth of the area can help by simply riding a bike."
Bellwood-Antis High School sophomore Tanner Worthing participates in the event every year with his family and believes that Freedom Ride is a great way for teens to have fun and show their support for the country.
"It's a great way to remember the purpose of the Fourth of July, and show our support for the brave vets.  I think everyone should come and have some fun," said Tanner.
Registering for the ride is easy.  You can register online to the group's website or you can register on the Fourth of July at the American Legion prior to the starting of the event. Registering online guarantees you an official Freedom Ride t-shirt in a size of your liking.
"Dress up in your best USA gear and come ride free!  We want good vibes and high fives to start your all American holiday!  Come start your day with us! You'll have fun, that's a promise!" said Roseberry.