What a rush
Blue Devils get running game in gear for a big win over Glendale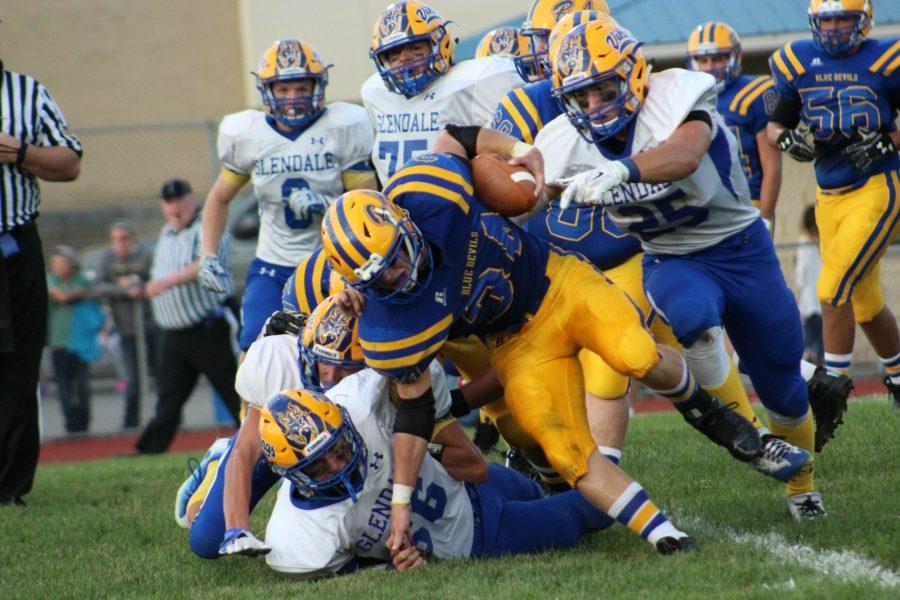 After a tough loss to rival Tyrone, the Blue Devils came back last Friday in their home opener at Memorial Stadium with a 48-7 victory over the Glendale Vikings.
The Blue Devils went into the game confident of a win but wanted to do so by continuing their passing offense and establishing their run game.
"It was important to get our running game going because we haven't really had that much of a running game lately and the balance of the offense came back on Friday," said senior Duke Brunner, who ran for 72 yards against the Vikings while teammate Sawyer Kline scooted for 64.
"
It was important to get our running game going."
— Duke Brunner
"The line did well," Brunner continued. "I will be the first to give all credit to the line."
B-A improved to 1-1 and 1-0 in the ICC while Glendale fell to 0-2 and 0-1.
In all, the Devils ran for over 250 yards, a big improvement from the Backyard Brawl, when they only managed 20 yards on the ground.
The Blue Devils got off to a great start with a touchdown reception by Ethan McGee in the first quarter and an extra point by Brendan Kowalski to make it 7-0.
It was all part of another big day for quarterback Jarrett Taneyhill, who completed 14 of 21 passes for 181 yards and three touchdowns, though he was intercepted two times.
B-A coach John Hayes said his team still had work to do despite the lopsided victory.
"This is Week 2, actually Week 1 if you look at the old schedule, so we still have a lot of reps and a lot of practice we need to do," Coach Hayes said.
BluePrint sports
The Blue Devils held up strong going into the second quarter as Brunner ran for a Blue Devil touchdown, followed by another rushing touchdown by Junior Nick Watters.
The Vikings, however, were able to make a gain and scored with five seconds left in the first half, setting up a short run with an interception of Taneyhill to make the score 21-7.
"There were plenty of small things we need to improve to make the team better," said McGee.
Kline ran for touchdown to start the second half, giving BA a 20-point lead at 27-7. Taneyhill rushed for a touchdown in the third to advance the Blue Devils with a score of 34-7.
Taneyhill tossed out to Kline for a sixth Blue Devil touchdown giving the Blue Devils a 41-7 edge over the Vikings.
Sophomore Shawn Wolfe closed off the game with a 55-yard touchdown run a final Blue Devils touchdown in the fourth, with a final score of 48-7.