See You at the Pole a huge success in 2016
FCA gets 100 students at annual prayer event
See you at the Pole was a big success this year.
It took place Wednesday morning before school.
See You at the Pole is an event that takes place annually on the fourth Wednesday in September where students and teachers meet together at the flag pole in the morning before school.  At B-A it is organized by Fellowship of Christian Athletes.
Last year there were between 70 and 80 students there.  This year B-A got to the club's stated goal of 100 students.
"
This is just another reason why Bellwood-Antis is such a special place!
— Mr. Lovrich
FCA President Stephanie Mills said, "I never would have guessed that 100 people would have been there.  Mr. Lovrich  sets high goals and I'm really grateful that we were able to meet that goal."
Everyone seemed to be very pleased with the outcome of the event.
"I was really pleased with how this morning went.  It's so awesome to see that many students, teachers, and other faculty members all coming to this event and praying together,"  Stephanie said.
Mr. Lovrich credited his FCA members and leadership team.
"Last night, our FCA members flooded social media encouraging people to come so that really helped our attendance increase.  Our leaders, Stephanie Mills and Ryan Moore did a great job running the event," said Mr. Lovrich.  "When you have students organizing and running events like this it proves why we should all be B-A proud! This is just another reason why Bellwood-Antis is such a special place!"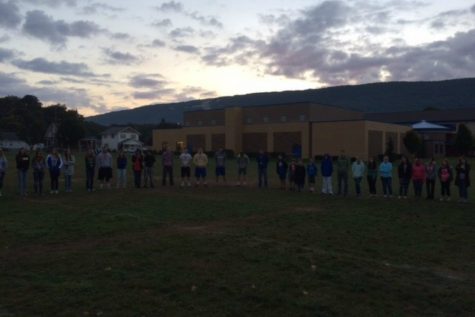 The service Wednesday started out with Stephanie talking to all students and teachers, then it proceeded into a circle of everyone coming together and holding hands to pray for certain things like, helping each other out in daily life, the lives of people like Madison Shura, and the safety and performance of all the students at B-A.
See you at the Pole is a nationwide event that began in 1990.