B-A band raising funds for new uniforms
Current uniforms are tattered and torn beyond repair
With statewide school budget cuts crippling many school districts, the area that often faces the most backlash is Fine Arts.
No one knows that more than the marching band at Bellwood-Antis.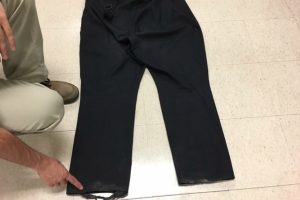 The Blue Devil Marching Band has been able to get 15 years out of their current uniforms; however, the uniforms were only meant to be worn for ten years.
"We're losing more and more uniforms that just aren't repairable," said Band Director Mr. Patrick Sachse. "The buttons on the jackets are starting to fall out, but the fabric is so weak that when you try to sew it back on it tears through the fabric again."
As a result, Mr. Sachse and the band are seeking donations to help with the purchasing of a new uniform package, which would include new coats, pants and vests. The pants alone run more than $100 apiece.
The band has so far raised $8,000 for their total $21,000 goal. If they can raise at least $15,000 more, then they can purchase new jackets and use their current pants as they continue to raise money.
An additional $6,000 would allow the band to also buy new pants along with new jackets. The hats will not be replaced as they are still in good condition.
Even the youngest band members recognize that there are problems with the uniforms. Sophomore Willie Williams Jr. said, "I've only been around here for three years now, and even I'll admit these uniforms are getting old. My ninth grade year, the back of my jacket was ripped and my pants were too small."
Senior Kaitlyn Hamer said the same thing.
"New uniforms would allow us to look better and spend less time fixing them all the time. As a group, we would look and feel better with new uniforms," Kaitlyn stressed.
Amanda Baldwin said she would like the band to look more professional instead of "having a misfit look."
"The uniforms are being repaired right before we go onto the field," she said.
Any money raised that surpasses their goal will go toward the purchase of a Yamaha marching xylophone kit estimated to be $500, and an Accent Bassoon estimated to be $3,500. As the band continues to grow, these additions will help to accommodate more students.
"We're hoping to buy the new uniforms next year," continued Mr. Sachse. "We are on track to get the jackets for next year. If we can raise enough money, then we can get the pants for next year but if not then we will have to wait a year for the pants."