McElwain makes it official
Senior Softball player signs letter of intent
Wednesday November 16, Bellwood-Antis senior Saige McElwain officially signed her National Letter of Intent to attend the Pennsylvania College of Technology and continue playing softball at the college level.  She will major in radiography and plans to get her bachelor's degree.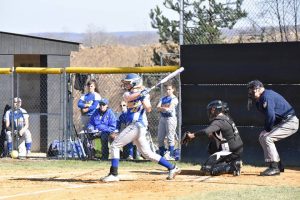 "It feels really good to sign (with Penn Tech) because it feels like a good accomplishment to be able to play at the next level.  I chose to sign with them because they have my major and I really like the school," said Saige about signing.
"Saige continued a long line of great players when she signed to play softball at the next level!  Saige earned a spot at that level and will be a great asset to the Penn Tech College softball team!"  said B-A high school softball coach Jim Payne.
Saige not only excels in softball, but she also competes on the Tyrone/Bellwood-Antis swimming team during the winter.  She also enjoys working out and lifting.
Bellwood hopes to have a successful year of softball and Saige has some lofty goals.
"For my personal goal I would like to get my 100th hit.  For our team I want to win the ICC because ever since I've been here we never have," she said.