Davis brothers enjoying success at Seton Hill
Noah and Nathan are a major part of the Griffins' hoops team
Bellwood-Antis graduates Noah and Nathan Davis couldn't have picked a better college.
Both brothers were recruited and given scholarships to play basketball at Seton Hill, a beautiful Division II School in Greensburg. Both Noah and Nathan say the students are very kind and the classes are just the right size.
The Griffins' first home game was November 22 against Lake Erie. They are currently 4-2.
Noah, a senior who graduated from B-A in 2013, is the team captain, and is usually a starter, but he oddly was not one for the first home game, which the Griffins won 79-76. Nathan, who graduated from Bellwod-Antis last year, is only a freshmen, and he plays sporadically, some games more than others.
He has even started some games, including a 94-77 loss at Lock Haven.
"
It's been fantastic! My classes have been doable, and I really love having Noah around.
— Nathan Davis
The all-time leading boys scorer at B-A, Nathan is really enjoying his first year in college. "It's been fantastic! My classes have been doable, and I really love having Noah around," he said.
Nathan, who is averaging almost 17 minutes  and 9 points per game, is also loving playing basketball at Seton Hill, and the actual size of the college.
"I think it's been great. Having my brother to show me around has been wonderful. It's also so good to know everybody, and to be close to home," Nathan said.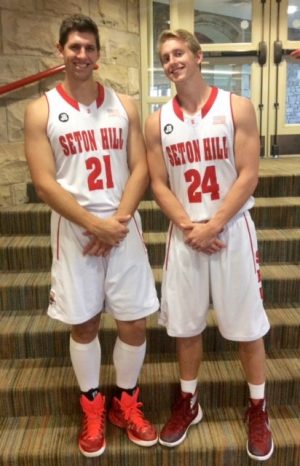 Noah, who averages 25 minutes per game, has loved his last three years at Seton Hill, and is loving his last year as a senior. He has been a starter since his sophomore year, and he has averaged double figure scoring the last two seasons.
"It's been absolutely wonderful. Having my little bro here is so great, I just love it," said Noah.
Recently, Noah won the PSAC player of the week after scoring the winning basket with just 16 seconds left in the game against Lake Erie. He is averaging 16.5 points per game.
Also, Noah was named 2016 Homecoming king at the Mercyhurst vs. Seton Hill football game on October 22.
Both brothers are absolutely loving their life on the court and in college.