Featured Alumni: Mallory Harold
B-A grad begins research work studying squirrel skulls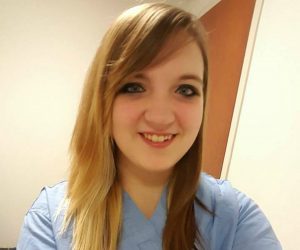 It all started with a joke about squirrels.
One of Mallory's professors at Penn State University made a joke about another professor studying the rodents, which are Harold's favorite animal, and she wanted to get into research anyway. Mallory then became fascinated with small rodent skulls.
"There's something so distinctly beautiful about bones to me," said Mallory.
Mallory was recently featured in the Penn State Alumni News for her research into squirrel skulls.
Mallory graduated from Bellwood-Antis in 2014 and was accepted at Penn State, but what Mallory didn't know then was that she would be studying squirrel skulls, and it would be a big focus in her college experience.
Harold went to college to become a trauma surgeon, with a major in Pre-med and a focus on vertebrate physiology.
"I expected her to go into a science field because it was her plan in high school, and I knew she would be successful. In high school she would observe surgeries and other medical procedures," said Ms. Alice Flarend, Bellwood's physics and chemistry teacher.
"She was diligent and always curious."
And that curiosity led her to squirrels.
"
There's something so distinctly beautiful about bones to me.
The project Mallory originally started working on was with Dr. Carolyn Mahan measuring the cranial cavity of small rodents as they were urbanized and exposed to humans.
"The purpose of this was to see if their cranial size increased, and therefore their intelligence, over time with exposure to humans," said Mallory.
Mallory said urbanization "would be something like creating a housing development or shopping mall when creatures' natural habitats would have been. In essence, creating a more humanized environment."
To tell if the urbanization process has been influenced on an animal, Mallory measured skull length and actual area using a program called Avizo, commonly used in the medical field for CAT and CT scans to measure tumor diameters.
"I had to take the imagery of the skull — top view, side view, and bottom view," she said.
Harold felt lucky to do the project because not only was it on a subject that interested her, but it also provided her with valuable research experience.
"Well, research at Penn State is an incredible opportunity," she said.
Many of Mallory's friends and peers have had their papers published in scientific journals. "When my project is finished, I will too," she said.
Mallory said she wanted something that would help her resume look strong, "but it became so much more".
Mallory's influence from Bellwood has been strong, influencing her to go to a smaller campus.
"I had a pretty close relationship with all of my teachers," she said.
This gave Mallory the communication skills to talk to a professor about a job.
Harold at this point is so interested in skulls. She has one year left at Penn State, who knows what unexpected things will happen next.