Featured Alumni: Comanche Garcia
1994 B-A grad overcame violence and tragedy to become a military hero
When Comanche Garcia was a small boy, he watched as his mother and 15-year old brother were shot in cold blood before his very eyes.  He was then the main witness at a double murder trial that convicted two men and put them in jail for 15 years.
Growing up in the Bronx, NY, in the 1980's, Comanche's story wasn't uncommon.
The story of how he went from orphan to military hero is.
"He definitely had some tough younger years," B-A middle school teacher Mr. Tom Partner, a lifelong friend of Comanche, recalled.  "He saw two of his family members killed, which was obviously traumatic, as it would be for anyone."
"
The incident when I was a kid was definitely hard on me, but I think it's made me stronger as a person."
"I moved around the New York area a lot when I was young," Comanche said.  "The incident when I was a kid was definitely hard on me, but over the years I've come to terms with it and I think it's made me stronger as a person."
Through his connection to Bellwood-Antis, Comanche was able to rise above the tragedy of his early life.
Comanche was part of the Fresh Air Fund starting around the age of 6, and he spent summers in Bellwood with Charlie Boyer and his family. The Boyers adopted him when he was 10.
"I loved the town from the start," Comanche said.  "I think it was because I was here at such a young age, but everybody was so nice."
Mr. Partner described him as a great student and friend.
"Comanche was athletic, compassionate, humorous, respectful, and very hardworking," Mr. Partner said.  "He was the type of kid who would give you the shirt off of his back if you needed it."
After settling in at Bellwood, it didn't take Comanche long to fully immerse himself in the school and student life. A member of the varsity track, wrestling, and football teams, he rushed for more than 1,300 yards as a senior. He was also a part of the school plays.
"He always had a positive attitude, and he always went above and beyond, whether it was in the classroom or in his participation in sports," said his high school Spanish teacher Mrs. Christine Claar. "He was an inspiration to me and anyone else he came in contact with."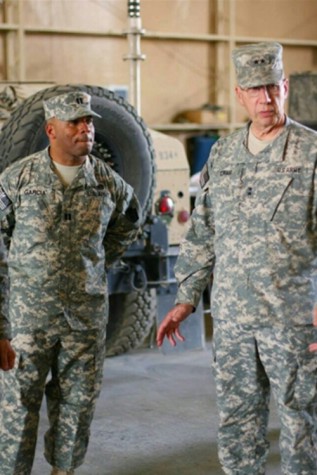 After graduating in 1994, Comanche enlisted in the United States Marine Corps, and later enrolled at Lock Haven University.  There he joined ROTC before going active into the United States Army National Guard.  He served two tours of duty in the Middle East from 2005-2006 and 2008-2009.
He received the Bronze Star Medal in Iraq for exceptionally meritorious service while assigned as a combat logistic patrol leader during Operation Iraqi Freedom.
"Being part of the National Guard taught me discipline," Comanche said.  "It also taught me to follow orders from my superiors no matter what; it was life or death."
His school career at LHU was a positive experience as well.
"He started playing football there, but I could tell it wasn't working for him, so I convinced him to try out boxing with me," said Mr. Partner.
And try it out he did. Two out of his four years at LHU Comanche was a national champion.
"I just fell in love with (boxing)," he recalled.  "I loved the competitiveness of the sport."
"His senior year, he beat the defending national champion from the Naval Academy, and he was a big dude," Mr. Partner remembered with a grin.
Comanche now works at Rockview State Prison near State College.
"I really like my job," he said.  "I don't feel sympathy for the inmates, but I do understand where they've come from."
Comanche said that he hopes he can serve as an example for youth who have faced hardships in their life.
"Hopefully I can be somebody who kids look up to and say, 'Wow, I can do this too,'" he said.
Comanche still lives in Bellwood, just one block from Memorial Stadium, and he said he wouldn't trade his experiences, despite their tragic beginning.
"I loved going to school at Bellwood," Comanche reminisced.  "And I'm really happy that I can still live in a town as great as this."