B-A takes the Plunge
Bellwood-Antis sophomore Alivia Jacobs said that after she came out of the water at last week's Polar Plunge at Canoe Creek State Park, she couldn't move because she was so cold.
"
It feels good. It was cool to be there and see everyone so happy.
— Alivia Jacobs
However, she still said she would do it again.
"It feels good. It was cool to be there and see everyone so happy," said Jacobs.
The B-A key club participated in the Polar Plunge, which raises money for the Special Olympics. Over 450 people took the challenge, including Bellwood's own Alivia Jacobs, Gwen Dougherty, Principal Mr. Richard Shreier, and advisor Mr. Charlie Burch. The group raised $900 raised at this chilling event, which was double of what they raised last year.
Participants jumped into the water and hustled back out in the 30-degree February weather. Gwen said it was a painful experience, but one she valued.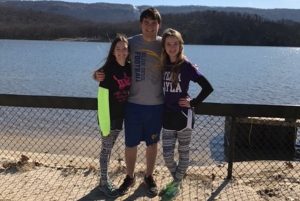 "I was fine during, but it hurt so bad afterward my muscles teansed up. It felt like pins and needles stabbing my legs. But it was cool when the program started to see a boy with Down Syndrome carrying a torch to start it off. I almost cried," said Gwen.
In all, the event raised more than $120,000.
To raise money, the B-A Key Club sold lasagna dinners, and gave teachers the option to dress down for $5 donation in January. Participants also paid a $50 fee to enter.
Mr. Burch said that it was a fun experience and it was nice to see how many people came out to participate or just watch the event.
"Many people think that you just get in a huge group and run in, its by waves. We were in the sixth wave, which was a lot of school districts," said Mr. Burch.