B-A freshman places fifth at District Student Congress
On March 15, the National Catholic Forensic League Student Congress district meet, a national qualifier, was held at Somerset High school.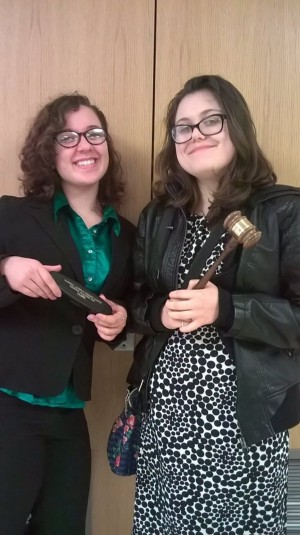 Congressional Debate, which is also known has Student Congress, is a form of interscholastic high school debate.
Brandie Ray, a Bellwood-Antis freshman, was the only ninth-grader to earn merit speaker status. She placed fifth in her first time competing in districts. The top four who placed above her were all seniors.
Two other students from Bellwood-Antis attended student congress. Sophomore Hannah Hornberger was the clerk, and senior Kerri Little was the presiding officer. Both students had already qualified for nationals through the NCFL.
During Brandie's performance she was nervous in the beginning, but got a lot more comfortable near the end.
"As I got more into it, with advice from (student congress advisor) Mr.McNaul and Kerri I got in the flow of it," said Brande.
Brandie likes to research hot topics and get actual information to have a broader view of the topic, and loves to stand up and see people's reactions when she has good questions.
"She is very thorough and has solid logic to back up her evidence," said McNaul, the debate leader and ninth grade civics teacher.
Max Myers from Somerset won first.