EXCLUSIVE: Inside 2017's Footloose!
You can be among the first people to see this spring's greatest musical.
Tickets are still available for opening night of the 2017 musical, Footloose.
There are tickets available for the remaining nights in smaller quantities.
Be sure to get your tickets to see the play: $10 for adults and $8 for students.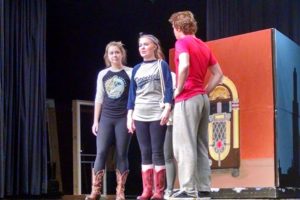 The show premieres on March 30, 31 and April 1 with a curtain time of 7:30 p.m. Doors open at 6:30. You can buy tickets at the door, but the waiting game is a dangerous one. Tickets are available online.
Last week the BluePrint spoke to Ryen Beam and Deja Rhoades for an exclusive look behind the scenes. Deja is a background dancer who is also responsible for advertising while Ryen is the lead, Ren McCormick, the new kid in town from Chicago whose parents separated, so he moves to Bomont.
Those in attendance will notice the high energy out of this cast, the emotion and vibrancy put into the musical production, and a new tone taken on the famous 1980s movie, adding a new thrill and surprise with this rendition of the classic everyone knows as Footloose.
Beam and Rhoades said whole cast has an amazing chemistry. They love the interactions they have and it shows in the sneak peeks we've been allowed to see as insiders. They say the emotions are so much more raw and powerful for people who have known in each other for their high school career and longer.
Deja said, "This is probably one of my favorite musicals I've worked on just because of the interactions we've had as a cast."
This is Ryen's first musical, which is surprising since he's the lead role. He is also student athlete participating in track, which makes for long days of sports practice followed by musical practice.
"It's not really that bad since they kind of just flow into each other. It can make for a long day, but it's worth the effort," Ryen said.
According to Rhoades, "It's well worth it in the end."
Be sure to catch these two seniors in Footloose and remember to cut… well you know…