Sports Round-Up: Boys cross country out-paces Mount Union
The boys cross country beat the Mount Union Trojans in a nail-bitter of a race yesterday at home.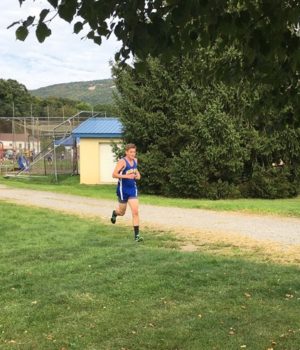 Mount Union runner Josh Boozel was able to surpass all Blue Devil runners to finish in first with a time of 18:34. Boozel was followed by B-A's Robert Vankirk, who came in second.
Vankirk ran a time of 19:37. The Blue Devil runner was disappointed in the time citing tired legs.
"I felt terrible while I was running, but I was able to maintain my place, and the team still won, so I was happy with the outcome," said VanKirk.
Vankirk was chased by Jake Miller, who came in fourth, running a time of 19:55.
Bellwood-Antis won the meet 27-30.
The girls cross country team was unable to pull of the same feat, despite another first place finish by junior Jenna Bartlett.
Bartlett ran a speedy time of 21:59, 47 seconds faster than the next girl runner. She was followed by Adisyn Gilbert and Alexis Noel, who both ran times in the 25 minutes.
The girls team lost 33-24.
---
Undefeated squads fall
In other sports action, the girls spikers dropped their first match of the season, falling in straight sets to mighty West Branch 25-12, 25-9, 25-18.
The Lady Devils, who got 11 assists from Sydney Lechner and 8 blocks from Sakira Harris, fell to 2-1.
The Tyrone/Bellwood-Antis boys soccer team lost its first game, as well, dropping one to Huntingdon 3-0 on the road.
The Tyrone/Bellwood-Antis tennis team, on the other hand, recorded its first win, defeating Clearfield 6-1. B-A senior Tina Hollen remained undefeated in singles matches at 4-0.