SPORTS ROUND-UP: Hollen moves on to States
Today tastes a little sweeter for Bellwood-Antis senior Tina Hollen.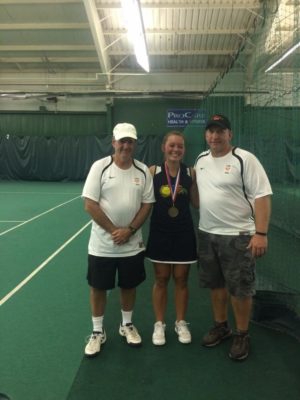 Yesterday Hollen was able to qualify for the PIAA tennis tournament in Hershey by capturing the District 6 2A singles tennis championship at ProCare Health and Fitness in Altoona.
The match was moved indoor after rain forced it to be shifted from the Leopold Tennis Courts at Altoona High School.
Hollen took down Central Cambria's Olivia Ratchford, winning 3 sets to 1. It was an epic match between the top two seeds with Hollen citing her serve for the victory.
"She (Ratchford) couldn't judge it, especially in the first set," Hollen explained.
Hollen, who hadn't lost a set in the tournament before yesterday, won he first set in the final 6-4 before losing the second set 2-6 to force a decisive third set, but not before a short break allowed her to regain her energy and confidence.
"I had to do something different (in the third set)," Hollen elaborated."Our court time expired and we had to wait a bit before we started again. This let me regroup and let me play like myself again."
In that one, Hollen made quick work of the Red Devils' freshman, winning 6-1.
Hollen, who has played tennis for the co-op team with Tyrone since she was a freshman, rejoiced the moment she realized she won.
"You have so much pride in knowing you did this yourself, it's different when you play on a team," she explained. "I feel more accomplished having done this in singles."
In November, Hollen will return to the tennis court to take on the winner of the Philadelphia region in Hershey.
---
Lady Blue Devils lose tight game against Lady Warriors
The B-A girls Volleyball squad stayed in last night's game against West Branch at home.
West Branch showed their talent throughout the game, a talent that has propelled their team to a stellar 20-3 record.
The Lady Blue Devils still played a good game and were able to challenge the Lady Warriors throughout the game. In a very contested first set Bellwood-Antis came with in two points of West Branch, barely losing 24-26.
The second set started out quite differently that the first with West Branch starting and finishing hot to take the set 18-25. The Lady Blue Devils came back from an early decefit
West Branch wasn't able to take their momentum into the third set and B-A played strong to win 25-19.
After pushing the Lady Warriors to a fourth set the Lady Blue Devils couldn't complete the comback and lost in a rout, 25-12.
B-A's Kamryn Mercer and Sydney Lechner continued to play well in against ICC competition and had a good showing last night as well.
The Lady Blue Devils will play again Tuesday in Williamsburg.