BA History 101: Basketball wins; teachers kiss a pig
This month we go back in time 26 years to 1991, when the Bellwood-Antis boys basketball team scored its record at 2-2.
During one game against Curwenswille, a 73-58 win,  Chris McClellan sank four 3-pointers on his way to a 29-point scoring explosion. Sophomore Aaron Abbott chipped in 11 points and dished out 10 assists. Seniors Kari Bonsell and Jeff Grassmyer combined for 17 rebounds.   
The Blue Devils' first game of the season ended up being a loss against the Tyrone Golden Eagles, 48-39.  Ironically, this season, the boys basketball team  also lost its  first game against Tyrone, 48-39.  
Also in The Hylite a front page story: 'Five Teachers Prepare to Kiss a Pig'.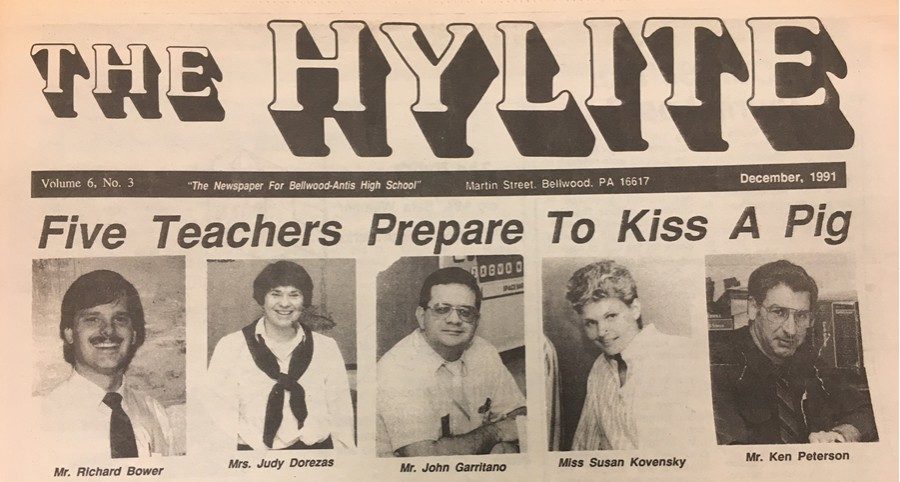 It was the second annual Kiss-A-Pig contest that was created to help the Domestic Abuse Project.
The event, sponsored by the high school student council, gave five teachers the opportunity to kiss a pig. The winning teachers was determined by the voting of the student body. The cost of the vote was a penny.
The five teachers were Kenneth Peterson, Richard Bower, John Garritano, Judy Dorezas, and Sue Kovensky.
The proceeds from the events go to the Domestic Abuse Project, which is a subsidiary of the Family and Children's Services of Blair Country.
The winner of the 1990's Kiss-A-Pig contest was Mr. John Hayes.   
Leave a Comment