ATHLETE OF THE WEEK: Jacob Evans
BluePrint sports
Second grader Jacob Evans has a lot on his plate, athletically speaking!
Jacob recently placed second at the Middle Atlantic Wrestling Association (MAWA) western regional tournament on March 30. This qualified Jacob to wrestle at the MAWA eastern nationals tournament in Salisbury, Md., on May 5-6.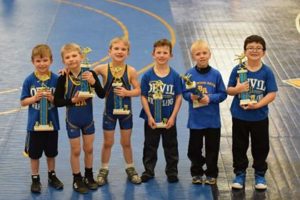 A lot of work went into placing second at the western regional tournament. Jacob is a member of the Bellwood-Antis elementary wrestling team, which is coached by his father, Josh. Teammate Caleb Plummer will be wrestling in the Pennsylvania Junior Olympics tournament later this month.
"There was so many kids that achieved a lot of things this past season, and as their coach I'm just really proud of all them," said Coach Evans.
Jacob practices 2 times a week just with his elementary team, and says, "We run drills and do live wrestling." He said puts work into single-leg and double-leg takedowns, along with live wrestling.
Jacob loves wrestling because "it's a very athletic sport, and you can make more friends by playing." He said he has been influenced the most by Myers first-grader Bryson Geyer.
Jacob plans to wrestle in middle school and in high school. His current record is 38-12 and has had 8 major decision victories. Jacob wrestles 52 to 55 pounds.
Jacob also plays football for the North Side Red Devils.
We wish Jacob the best of luck for his upcoming tournament in May! Good luck at the Eastern Nationals!