ATHLETE OF THE WEEK: TJ Wyland
In last week's win against West Shamokin, TJ Wyland stepped up on some big plays to help secure the 14-6 win.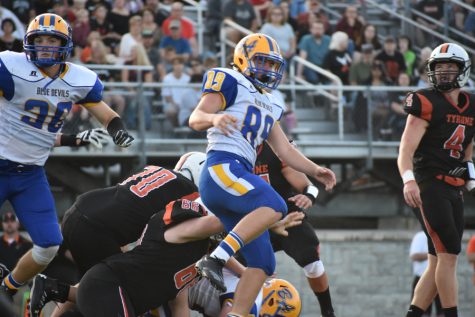 The thought of getting to play another week with his brothers, he said. is what kept him motivated throughout the game.
"It felt great to know I had another week to play football, the sport I love, for Bellwood-Antis," said Wyland, who sealed the game with his interception in the final minutes.
Advancing past West Shamokin, the Blue Devils face yet another challenging team in the District 6 2A semifinals, undefeated Ligonier Valley. He believes that the team will do better than most are expecting them to do.
"We need to shut down their receivers and play our best game yet," TJ said.
The Rams will be the team's toughest opponent of the year in Wyland's opinion, but that's to be expected at this level of the playoffs.
TJ hasn't been targeted on a lot offensively, with  10 receptions on 174 yards with 2 touchdowns on the year. Defensively he has shined, with 53 solo tackles and assisting on 23 rallying up 76 total tackles. He's also got two interceptions, two fumble recoveries and a pair of sacks.