ATHLETE OF THE WEEK: Corey Johnston
Senior Corey Johnston is off to a hot start this season for the Tyrone/Bellwood-Antis co-op boys soccer team. In just six games Corey has nine goals for the Golden Eagles. 
"I plan on just playing my game and to keep taking my chances when I get them," said Johnston. "If I play my game and work hard the chances will come."
The B-A Blueprint is naming Corey Johnston athlete of the week for his standout start to his senior season.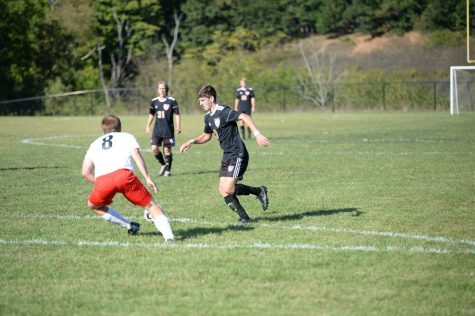 "Corey is a standout player within the league. His impact on us as a team is great. He's a hard worker and brings a great attitude everyday." said Coach Bartlett on the role that Corey plays for the Golden Eagles.  
Last year Corey had a season to remember when he was awarded the Mountain League MVP, scoring 10 goals to go along with 5 assists. He helped lead his team to the District Championship, where they suffered a tough loss to Bellefonte. 
"Seeing our team be able to make it to the District Championship last year had me excited throughout the preseason with all of the potential we have coming back." Said Corey on his team making it to the District Championship last year, and his hopes for this season. 
Corey has played a key role in the success of the Golden Eagles for the past couple years, and as his senior season kicks off he hopes to fulfill his expectations and help lead his team to victory.
His goal totals this season put him at 47 career goals, just eight behind the Tyrone/Bellwood-Antic co-op record of 55 held by 2016 B-A grad Noah D'Angelo.