3-D 1
Trio of B-A athletes sign Division 1 letters of intent
Bellwood-Antis Athletic Director Mr. Charlie Burch has been at B-A as a student and a coach since the 1980's, and yet the events of Wednesday, November 13, were something so unprecedented, he's said he's never seen anything like it before. 
B-A had three athletes all from the 2020 graduating class sign their National Letters of Intent, as Travis Luensmann, Alli Campbell, and Sakeria Haralson all solidified their commitment to continue their athletic career at the Division I level.
"
If you look around the area at most schools our size, you don't see this everyday.
— Coach Conlon
"If you look around the area at most schools our size, you don't see this everyday," said BA baseball coach Steve Conlon. "I think that's why we made such a big deal of it."
The three were recognized at an assembly in their honor at the Bellwood-Antis High School gymnasium, where they officially signed their college papers.
Luensmann, who commited to play baseball at The University of South Carolina over the summer of 2019, solidified his commitment to become a Gamecock.
Travis had himself a season last year, when he finished the season with an 8-1 record, while dominating opponents with a 1.14 ERA.  Luensmann has helped lead the Blue Devils to the District championship game two out of the last three years.
"I chose South Carolina because it kind of felt like home to me. I really just got that feeling of being comfortable," Luensmann said. "All the facilities and everything are amazing.  The idea of going to South Carolina and playing in the SEC was exactly what I wanted." 
Campbell and Haralson, two of the biggest components on the Bellwood-Antis Lady Blue Devils basketball team that has won back-to-back PIAA championships, also made their commitments official.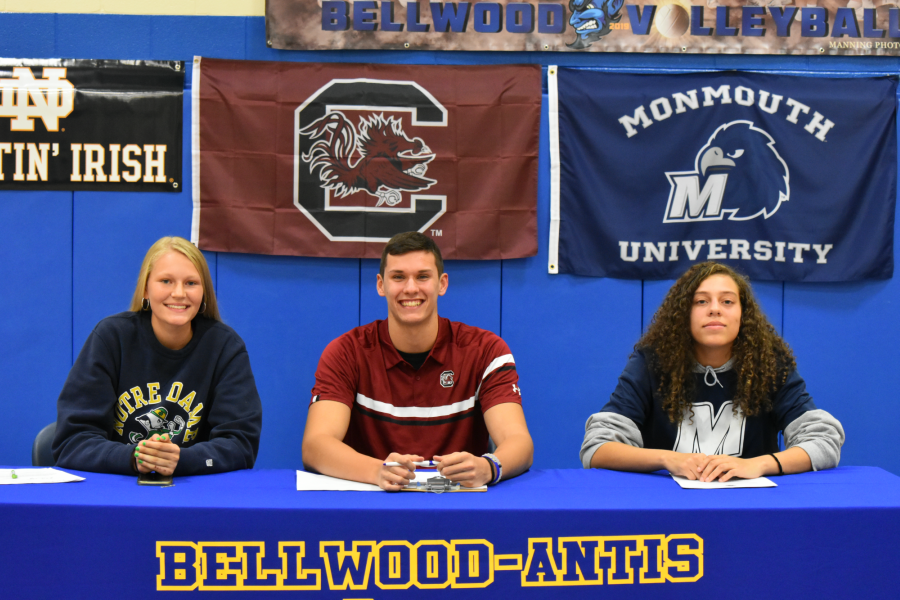 Campbell signed to continue her career at the University of Notre Dame.  Campbell is one of the highest scorers in Blair County history, and a Pennsylvania Gatorade Player of the Year. She is a 5-star recruit also listed as one of the top 25 prospects in the nation by many scouting services.
"I chose The University of Notre Dame for so many reasons,"  said Alli. "I kept comparing all the other schools back to ND. They have great academics, a great coaching staff, and I love the girls.  They have a great campus, and it was all around the best fit for me."
For Haralson, a multi-sport athlete, she signed to continue her basketball career at the University of Monmouth.
"For me family is everything, and Monmouth has one of the best family vibes I've ever experienced,"  said Sakeria.  
After the Athletes gave out their many thanks to community, family, friends, and teammates, they made the signing official.
It's not very often that B-A athletes go on to play at the high level, and this senior class of 2020 is definitely one of the most successful in school history.