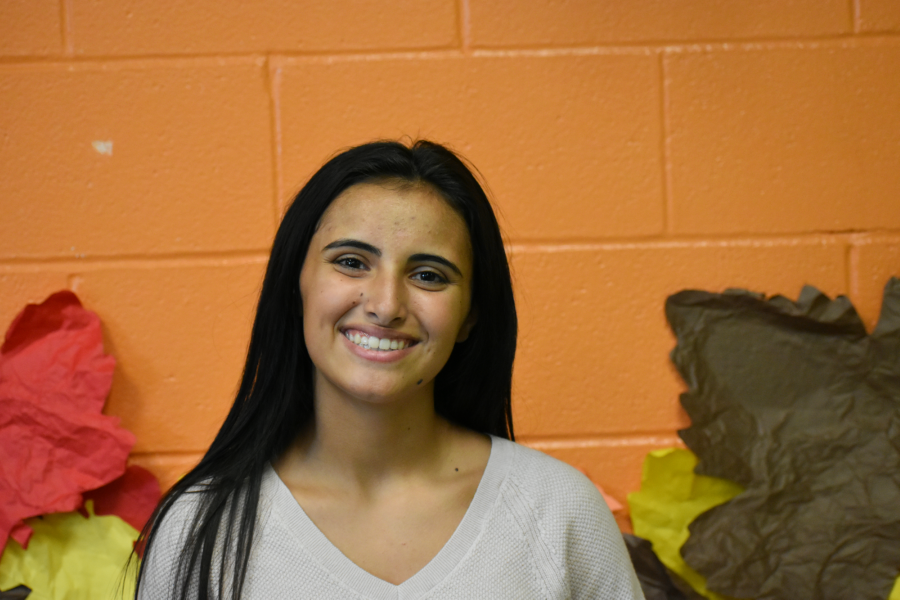 How many years have you been in Blueprint?
This is my third year in Blueprint.
What would you like to do this year?
I would like to take pictures and record videos.
What grade are you in?
I am in 11th grade.
Why did you take Blueprint?
I took Blueprint to have fun while doing something that I like.
Maria Cuevas, Staff Writer
Mar 06, 2020

FEATURE TEACHER Ms. Shimel

(Story)

Feb 24, 2020

2020 CHS debates a success

(Story/Media)

Feb 20, 2020

CHS school-wide debates to be broadcast live

(Media)

Feb 11, 2020

Mrs. Gonder Announced for the Elite 100

(Story)

Jan 31, 2020

FEATURE TEACHER: Mrs Clabaugh

(Story/Media)

Jan 29, 2020

Scene From a Different Lens

(Story)

Jan 28, 2020

It's not too late to sign up for Donor Drive

(Story/Media)

Jan 06, 2020

Feature Teacher: Mrs. Dionis

(Story/Media)

Jan 03, 2020

Pellegrine named to two All-State teams

(Media)

Dec 12, 2019

Scene From A Different Lense

(Story)

Dec 05, 2019

Wrestlers looking solid for 2020

(Media)

Dec 03, 2019

PHOTOSTORY: Day of Giving

(Story)

Nov 19, 2019

Disney+ is well worth it

(Story)

Nov 14, 2019
Nov 13, 2019

Veterans Day Assembly

(Story)

Nov 08, 2019

PHOTOSTORY: Veterans Day Assembly

(Story/Media)

Nov 07, 2019

ARTIST OF THE WEEK: Jayce Miller

(Media)

Nov 04, 2019

Feature Teacher: Mr. Goodman

(Story)

Oct 21, 2019

FEATURE TEACHER: Mrs. Hughes

(Story/Media)

Oct 16, 2019

Middle School announces Students of the Week

(Story)

Oct 15, 2019

B-A teachers continue reading project

(Story/Media)

Oct 03, 2019

Fab Freshman: Daman Mills

(Story)

Sep 17, 2019

FEATURE TEACHER: Mrs. Hoffer

(Story/Media)

Sep 09, 2019

Photostory: Elementary School Farm Show

(Story)

Sep 06, 2019

Devils host Juniata Valley in battle of unbeatens

(Media)

Aug 29, 2019

Photostory: Backyard Brawl

(Story/Media)

Aug 29, 2019

PhotoStory: A New Approach For The First Day Of School

(Story)

May 31, 2019

FORGOTTEN BELLWOOD: Thank You and Goodbye, The Finale part b.

(Media)

May 20, 2019

ARTIST OF THE WEEK: Dallas Smithmyer

(Media)

May 13, 2019

Feature Teacher: Mrs. Szynal

(Story/Media)

Apr 15, 2019

PhotoStory: After the Storm

(Story)

Apr 05, 2019

Sensational Sophomore: Kaitlyn Dickinson

(Story)

Mar 20, 2019

Spread the Word assembly peps up the teams

(Media)

Mar 08, 2019

SCENE FROM A DIFFERENT LENS: Water

(Story)

Feb 26, 2019

Whaley headed to PIAA tournament

(Media)

Feb 22, 2019

Athlete of the Week: Trentin Whaley

(Media)

Feb 06, 2019

BEHIND THE SCENES: the making of Forgotten Bellwood

(Media)

Feb 05, 2019

Grapplers fall to Tyrone

(Media)

Feb 01, 2019

Athlete of the week: Alex and Aiden Taylor

(Media)

Jan 30, 2019

TEMPS FORCE SCHOOL DISMISSAL

(Media)

Jan 29, 2019

Winter Lights Dance Rescheduled

(Media)

Jan 28, 2019

Tylar Clemente is the genius behind mini-THON t-shirts

(Media)

Jan 17, 2019

This Week in Photos

(Story)

Jan 15, 2019

SCENE FROM A DIFFERENT LENS: outside in the snow

(Story)

Jan 11, 2019

Photo Story: Bellwood-Antis vs. Everett

(Story/Media)

Jan 10, 2019

Learning a second language has many benefits

(Media)

Jan 07, 2019

PHOTOSTORY: Bellwood VS West Branch Wrestling Match

(Story/Media)

Jan 03, 2019

SCENE FROM A DIFFERENT LENS: Christmas remnants

(Story)

Dec 24, 2018

PHOTOSTORY: 2018 Activity Fair

(Story/Media)

Dec 20, 2018

MASTERING HIGH SCHOOL: How to Have Self-Confidence

(Media)

Dec 20, 2018

SUPER SENIOR: Cassidy Shawley

(Story/Media)

Dec 17, 2018

Wrestlers fall to Moshannon Valley

(Media)

Dec 06, 2018

Tea w/ C: friending teachers on social media is a no-no

(Media)

Dec 04, 2018

B-A chorus to perform on TV

(Media)

Dec 03, 2018

SCENE FROM A DIFFERENT LENS

(Story)

Nov 30, 2018

B-A grapplers look for big things with fuller lineup

(Media)

Nov 21, 2018

SCENE FROM A DIFFERENT LENS: Career Day

(Story)

Nov 19, 2018

Veteran speaks to B-A about the changing mission

(Media)

Nov 12, 2018

SCENE FROM A DIFFERENT LENS: Myers Elementary

(Story/Media)

Nov 12, 2018

BAHS holds annual Veteran's Day assembly

(Story/Media)

Nov 01, 2018

Scene From a Different Lens

(Story)

Oct 24, 2018

SUPER SENIOR: Paulino Cuevas

(Story)

Sep 20, 2018

Jackson Boyer, FCA helping children in Belize

(Story/Media)

Sep 10, 2018

RAINS FORCE SCHOOL CLOSURE

(Story)

Sep 07, 2018

PHOTOSTORY: BA football vs. Glendale

(Story)

Sep 06, 2018

B-A travels to Juniata Valley for early test

(Media)

Aug 31, 2018

B-A looks to get on track against Glendale

(Media)

Aug 30, 2018

PHOTOSTORY: Backyard Brawl

(Story/Media)

Jun 05, 2018

Blue Devil baseball team advances in PIAAs

(Media)

May 31, 2018

PHOTOSTORY: Yearbook assembly and senior awards

(Media)

May 31, 2018

SENIOR WALK 2018

(Story/Media)

May 24, 2018

Blue Devils fall in District title game

(Media)

May 10, 2018

FAB FRESHMAN: Haley Campbell

(Media)

May 02, 2018

PHOTOSTORY: Myers talent show

(Story/Media)

Feb 22, 2018

FEATURE TEACHER: Mr. Webreck

(Media)

Jan 29, 2018

ATHLETE OF THE WEEK: Evan Pellegrine

(Media)

Jan 25, 2018

PHOTOSTORY: Wrestling versus Northern Bedford

(Media)

Jan 19, 2018

PHOTOSTORY: WRESTLING TRI-MEET

(Media)

Jan 17, 2018

Bellwood-Antis wrestlers fall just short

(Media)

Oct 04, 2017

PHOTOSTORY: media center fun!

(Story)

Oct 03, 2017

BA crowns Homecoming Queen

(Media)