Pellegrine named to two All-State teams
Plank makes second team as a linebacker
B-A senior Evan Pellegrine was a force on both sides of the ball during the Blue Devils' unbeaten regular season, and he's being recognized for it now that the campaign has come to an end.
Pellegrine was chosen for the PA Sportswriters Class 2A All-State team earlier this week, and on Friday he learned he had made the Pennsylvania Football News 2A All-State second team as a center.
"I feel all my hard work paid off," said Pellegrine. "During the season I was more focused on having a great season as a team, so this is a bonus."
Pellegrine is one of two Blue Devils to earn All-State honors. Junior Nick Plank was selected by the PFN as a second-team linebacker.
 Pellegrine was a leader for Bellwood-Antis and its dominant defense. The Blue Devis, who  were ranked 8th in Pennsylvania's 2A football ranking, dominated their regular season and made it into the District 6 semifinals, falling to 5th ranked Ligonier Valley by a point.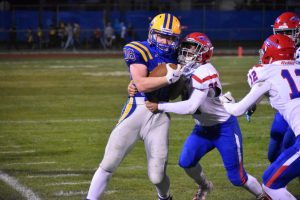 "For Evan to be named on two teams on both sides of the ball shows how great a year he had," said head coach Nick Lovrich.
Pellegrine, known as JEP to his peers, was a juggernaut for the defensive line, clocking in 74 tackles, with 53 of them being solo, 2 fumble recoveries, 2 sacks, and 10 tackles for loss.
JEP plans to continue his football career into college and said he has five visits coming up over the next month, including Millersville, Slippery Rock and Cal U.
But JEP wasn't only a leader on defense; he made impacts across offense and special teams as a center and a kicker. As a kicker for the Blue Devils he had a total of 40 points through field goals and extra points.
Offensively he was an unsung hero, like most linemen. He took over the center role and dominated as the head of the offensive line for the Blue Devils, who rushed for nearly 3,000 yards.
Plank had 88 total tackles and also got through for a pair of sacks. He produced three takeaways, with two interceptions and a fumble recovery, and he forced two fumbles for the Devils, who had 35 takeaways.
"This should be a good spring board for Nick going into next year," said Lovrich. "Both of these guys worked very hard all year. Not only did they work hard but their teammates helped earn this honor by owning their role and making them work harder."