Bellwood-Antis High/Middle School Addition 1965-1996
When you sit in the auditorium or look in the middle school gym they look antique, but in reality they are only around 50-55 years old. One of the last renovations to the school was in 1965. The Renovation's were of the middle school gym and the auditorium. The auditorium before it became just the auditorium it was the lunch room, gym, and auditorium. The auditorium was used as a multi-purpose room.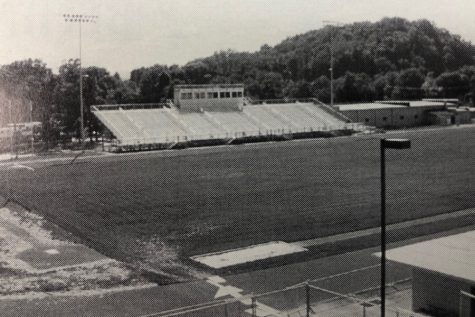 In 1990 they built the high school gym and before the built the high school gym we used the middle school gym. Once the gym was built there was no access to the gym outside so we had to add the Million dollar hallway. So now we have a middle school gym and a high school gym. Before the high school gym was built in was grass. Another reason the million dollar hallway was built was, because there was no access to the other side of the court. So when we have a basketball or volleyball game that hallway is what you walk through after you get your ticket.
One of Bellwood-Antis  last additions was the Memorial Stadium. The seating capacity had a big change. Home side had 1,120 seats now it has 1,890. The visitor side had 896 seats now it has 990. In total we have 2,880 before the upgrade the total was 2016. During the spring and summer of 1996, workers tore down the old wooden boards of the bleachers that held Blue Devil fans for 60 years. The once proud stadium appeared bare and spiritless. Soon workers had changed all that, when the season opened fans and players had a new stadium. The project included new handicapped aluminum bleachers, a six lane synthetic track and runways for the high jump, pole vault and broad jump. Memorial stadium was officially opened on September 6, 1996 with a ribbon cutting ceremony before the first home game of the 1996 season.
Leave a Comment