Bellwood Bios: Sarah Berkowitz
Most students are used to their teachers serving them, but for Sarah Berkowitz she often serves her teachers at her job at Powerhouse Subs in Tyrone.
"A few of Bellwood's staff members have come in and it is fun to talk to with them while I take their order. I also see a lot of my moms friends and it is always a pleasant surprise to see a familiar face," Sarah says.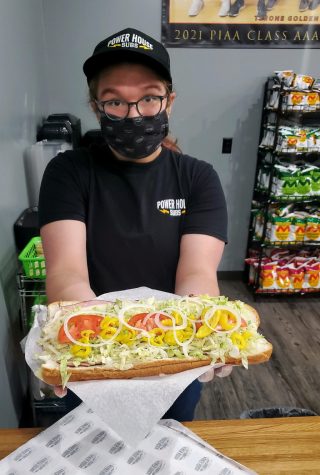 Sarah said she found the job at Powerhouse when she was looking for a job around this time last year. She was on the market for a job that offered decent pay and flexible hours.
"I stumbled across a job posting for Powerhouse Subs. I had previous experience at a summer job working in food service and they offered great benefits. It was an excellent fit," Sarah says.
Sarah is a senior at the Bellwood-Antis High School and is involved in jazz band, concert band, marching band, choir, mock trial, chess club, and Avedium. Because she is so heavily involved with extra-curricular activities, Sarah says that she is lucky that she has such understanding managers.
"The restaurant closes at 9pm and I am usually home before 10pm. My managers understand that I am a student and make my schedule in a way that allows me plenty of time to attend extracurricular activities and other important experiences," Sarah said.
Many people would think it is almost impossible to be involved in so many extracurriculars while attending school and work. But Sarah says that she manages to keep up with her academics by taking advantage of her study halls and often leaving school with little to no homework.
That gives her plenty of time to work in Tyrone, and that has given her a lot of interesting memories.
"I meet many people in a day and it is great to interact with them. One of my favorite stories from work took place while my coworker and I were cleaning the lobby after a rush," she recalled. "We were sweeping the floor and wiping down the tables. Suddenly, we heard sirens coming from outside. We stopped what we were doing and looked out of the large windows at the front of the restaurant. Three fire trucks were slowly driving down the road and a truck pulling a trailer with the Easter bunny on it following them. It was completely unexpected and we laughed about it for the rest of our shift."
Sarah is also one of the top students in her class, and is running for valedictorian.
Leave a Comment