Tyrone/Bellwood-Antis soccer team falls in District championship
The Tyrone-Bellwood-Antis soccer team nearly pulled off the upset in the District 6 3A championship at Mansion Park, but their dream ended in a thrilling 2-1  overtime loss to 5-time defending titlist Hollidaysburg.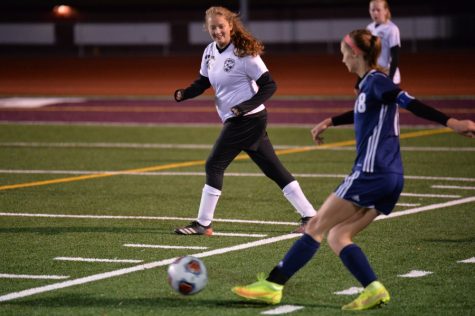 Hollidaysburg scored a goal early in the first half (36:18), which marked the only goal in the first 60 minutes of play. After a long drought in scoring Tyrone finally broke through with 5:05 left in the second half when B-A senior Sophia Nelson scored on a penalty kick that tied the score at 1-1.
Neither team scored for the rest of regulation, leading to a 1-1 tie through the two halves and taking the game into overtime. At the 1;47 mark in overtime Junior Eliza Vance had a chance to win the game for the Eagles with a penalty kick, which ended up getting blocked. Hollidaysburg's Chloe Stoehr scored the game winning goal for the Tigers, which came off an assist from senior Natalie Despot.
It was a tough rode for the Golden Eagles to make it to the District Championship game after dropping seven of their previous nine games. In order to make it the District championship they had to beat Bellefonte in the semifinals on Monday. After splitting their two regular season games, the Eagles were able to come out victorious at Golden Tigers Stadium with a score of 2-1, being led by Junior Eliza Vance who scored  both goals.