Hollen, Luensmann sign to play on the next level
Seniors ink National Letters of Intent
At 4:30 yesterday, November 12, B-A seniors Ana Hollen and Chad Luensman signed National Letters of Intent to continue playing the sports they love in college.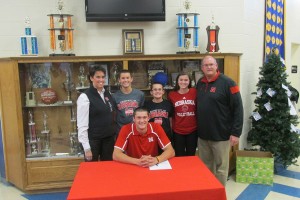 Chad will be attending the University of Nebraska on a scholarship for baseball. Chad said, "There isn't a nicer campus out there. I love the coaching staff, and the baseball program continues to rise. They also support their athletes really well."
Ana Hollen will be attending the University of Pitt at Johnstown on a scholarship for basketball. "I feel like I can finally breathe, like a weight has been lifted off my chest. Now I can play out my senior season more relaxed and just have fun," said Ana.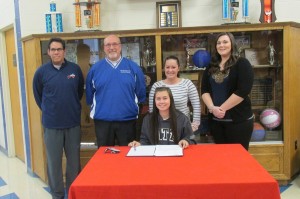 Chad was 8-2 as a starting pitcher for the varsity team last season, boasting a 0.85 ERA.
Hollen is a four-year starter for the girls basketball team who averaged 16 points per game last season when the Lady Blue Devils won the District 6-AA championship.  She was a District finalist in single tennis last fall.
Luensman also had offers from Virginia Tech, VCU, Penn State University, and Virginia. "It is a weight taken off my chest, but I have to keep improving and waving toward a chance at the draft."
Ana was also considering Saint Francis, High Point, and Niagara. "The deciding factor was how much money I could get and academically what was better. I knew what I was going to do major wise, which is Physical Therapy/Bio, so it was easier to narrow down what college I wanted to go to," said Hollen.
Chad said, "It's a dream come true."
When asked what she is expecting from her senior season, Ana answered, "I expect to go far; My team has experienced success in our league and district and we will extend that into state playoffs."
Leave a Comment