Bellwood students recognized at Challenge Assembly
The Annual Challenge Program was last week.
There were several different categories. The different categories were: Attendance, Academic Improvement, Academic Excellence, Community Service, and the STEM program; Science.
The Challenge Program gives students opportunities to learn about the employment in their community. They will take these skills that they learn into the workforce that will help them. The motivation will help them in their community and help with their jobs and help them in school.
The Attendance Rewards were given to Cameron Nagle, 11th grader, and Robert Whiteman, 12th grader.
The eleventh grade winner was Taylor Hinkle and the 12th grade was Amanda Partner for Academic Improvement.
For Academic Excellence went to Ashley Dutrow, 11th, and Kyle Himes, 12th.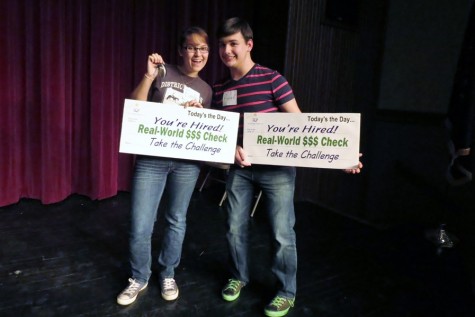 Connor Himes (100 hours), 11th grader, and Chad Miller, 12th grader (144 hours) won for Community Service.
Lastly, there is the STEM program. The rewards went to Derek Swope (98.8), 11th grader and Chad Luensmann (106.92), 12th grader.
These were the nominations for each of the categories:
Academic Improvement: 11th graders- Devon Gardner, Emilee Astore, Amelia McDermott, Shawn Miller, Ethan Kolbfliesch, Taylor Hinkle, Codey Campbell, Matthew Perry, Revel Southwell, and Sarah VanKirk. 12th graders- Aric Umholtz, Lain Hall, Stevie Pennington, Amanda Thomas, Geoffrey Hollen, Jordon Beck, Jesse Branstetter, and Amanda Partner.
Academic Excellence: 11th graders-Kerri Little, Jacob Burch, Laycee Clark, Nathaniel Mackereth, Raegan Plowman, Nathan Davis, Kala Wooten, Paige Dinges, and Ashley Dutrow. 12th graders- Jeremy Wilson, Jacqueline Finn, Chad Luensmann, Kyle Himes, Adam Osborne, Meghan Claar, Selena Damiano, Crystal Evans, Anna Wolfe, Kelly Leamer, and Isaac Mills.
Community Service: 11th graders- Connor Himes with 100 hours, Emily Hoover (104), Michael Yohn (80), and Zane Wenner (67). 12th graders- Crystal Evans (110), Ellesha Gathagan (195), Paige Heaton (169), Chad Miller (144), and Scott Pearce (200).
STEM Program Science: 11th graders- Nate Hale, Connor Himes, Sierra Stevens, Derek Swope, Amanda Albright, and Kerri little. 12th graders- Josh George, Chad Luensmann, Jeremy Wilson, and Anna Wolfe.
Math: 11th graders- Kerri Little, Raegan Plowman, and Jake Burch. 12 graders- Sean Harrity.
Leave a Comment